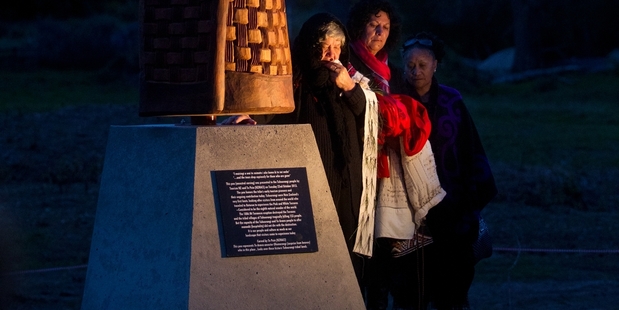 Aotearoa's first tourist guides and hosts have been honoured for their pioneering contribution to the development of tourism in New Zealand.
The people of Te Arawa hapu Tuhourangi, of Lake Tarawera and Whakarewarewa, were formally acknowledged for their contribution to New Zealand tourism at a dawn ceremony near the lake yesterday.
The tribe was given a carved wooden pou by Tourism New Zealand, Te Puia and the New Zealand Maori Arts and Crafts Institute.
Tuhourangi were New Zealand's first hosts, welcoming and guiding domestic and international visitors to the Pink and White Terraces on Lake Tarawera.
Manuhiri (visitors) came from around the world to experience the wonders of the silica terraces and the famed hospitality of the guides. The terraces were considered to be the eighth natural wonder of the world but were destroyed in the 1886 eruption of Mt Tarawera which devastated surrounding villages and killed 153 people.
The pou is at the entrance to the new Tarawera Trail walking track beside what was the original site of Hinemihi meeting house at Te Wairoa.
Tuhourangi kaumatua Mauriora Kingi said the acknowledgement of the tribe as early tourism pioneers was significant and gave recognition, not only of the generations that had gone before, but those who remained today.
He said the pou also acknowledged an even closer working relationship for local iwi, Tourism New Zealand, Rotorua and Te Puia.
"This is a significant and holistic step for all those involved and will assist with the cultural development and preservation of Maori culture in both Rotorua and throughout Aotearoa," Mr Kingi said.
Tourism New Zealand chief executive Kevin Bowler said the organisation was proud to honour the place and people involved in the birth of tourism in New Zealand.
"This place is at the heart of early tourism in New Zealand and epitomises the absolute uniqueness of what Maori still bring to tourism in Aotearoa."
Te Puia chief executive Tim Cossar said the gift of the pou honoured not only the pioneering efforts of Tuhourangi, but also the continuing growth of new generations.
"Although much has changed here over time, the commitment to the legacy of guiding and manaaki [hospitality] has remained constant and that is a tradition continued today in Rotorua and is something that we are particularly proud of at Te Puia and Whakarewarewa Village."
The pou is part of a family created by carvers at the New Zealand Maori Arts and Crafts Institute for Te-Heketanga-te-Rangi at Te Puia's entrance.