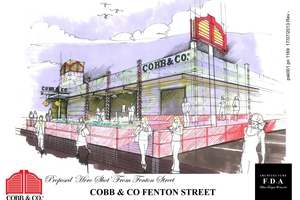 Iconic restaurant Cobb & Co is returning to Rotorua in a move being described as a "home coming".
Plans are now underway to transform the former Kurious Kiwi restaurant on Fenton St into a Cobb & Co restaurant, function room and bar set-up, including a kids play area.
It is expected to employ 25 people.
Cobb Group Ltd chief executive Derek Edwards said they were excited to be back in Rotorua and hoped the restaurant would be open early next year.
"Just about anyone in New Zealand has had an experience at Cobb & Co. We find when we come back into a town it's sort of like a home coming for some people."
Cobb & Co previously had a restaurant on Hinemoa St, but that closed in 2009.
Mr Edwards said the restaurant's relationship with the Bay of Plenty Steamers, which they were a key sponsor of, was partly behind the move into Rotorua.
He wanted the restaurant to become a place to call home for both the team and supporters.
Mr Edwards said the restaurant would seat up to 250 with a separate function room and a saloon bar.
A kids' play area would include Playstation games, he said.
The recruitment process was underway to find a manager, after which further jobs would be advertised, he said.
"It's a fantastic location for a Cobb & Co Restaurant."
Mr Edwards said the fact that it had already been used as a restaurant made the revamp easier and said the location, easy access and parking were all big bonuses.
He said the restaurant brand was undergoing a resurgence. Mr Edwards said they'd be keeping menu items that people remembered while making it healthier with a wider range of meals.
Mr Edwards said it was going to be a flagship restaurant for the brand.
"We think it will fit really well into Rotorua and we've had amazing support from the Rotorua community."
He said they hoped the new restaurant would help bring people into town to spend time and money.