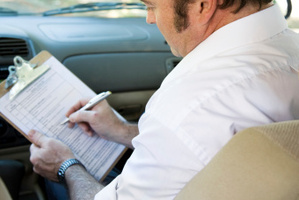 Nearly half of all restricted licence tests end in failure for Rotorua drivers.
New Zealand Transport Agency statistics show Rotorua has a 52 per cent pass rate for restricted licence testing, since new records began in February 2012.
Meanwhile, local drivers have more success with learner licence tests (63 per cent pass rate) and full licence tests (68 per cent).
The pass rates are similar to the national average for each licence type.
At the start of last year the restricted licence test became more difficult for drivers, which is the major factor behind the low pass rate. "Learner drivers have to demonstrate a higher standard of driving to pass [the restricted test]," the NZTA said.
"Road crashes are the single biggest killer of teenagers in New Zealand, and the test is directed at improving the standards and skills of young drivers.
"Driving down the road or around the block simply isn't enough."
During 2011, before the new test came in, the restricted licence pass rate was 80 per cent in Rotorua.
The NZTA said learner drivers needed an estimated 120 hours of driving experience to ready themselves for the current restricted test.
New Zealand Driver Licensing regional manager Alan Mather, who oversees testing in Rotorua, said if local drivers did not prepare they had no chance of passing the restricted test.
"The people that have just been out with the uncle on a couple of weekends, they don't have a show," he said.
Mr Mather said it was predicted tougher testing would result in fewer deaths on the roads.
"It is probably a bit early to see that represented in the statistics, but that is what we all want to see."
Mr Mather said the testing schedule was stricter and more black and white than before 2012.
He said common failing points for the test included parallel parking and not doing mirror checks.
Jackie Birch posted on the Rotorua Daily Post Facebook page about her daughter doing the 60-minute test. "She said it was not as bad as what she thought it was going to be."
Practical driving tests in the city are done through Vehicle Testing New Zealand (VTNZ).