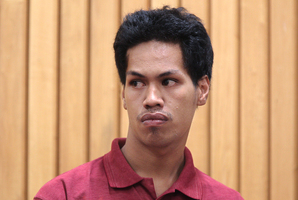 A Rotorua teenager jailed in connection with the brutal death of Polish man Roman Skorek in Kuirau Park has told of his recurring nightmares.
William Karauna Edwards, 16, was sentenced in the High Court at Rotorua today to four years and three months in jail after he previously pleaded guilty to intentionally causing grievous bodily harm to the 64-year-old in January last year. Leslie McKay Glen, 15, received two years and six months' in prison after he admitted being a party to that same offence. The teenagers were 15 and 14 at the time of the attack.
Earlier today, Simon Meka Herewini, 22, was sentenced to life imprisonment with a minimum non-parole period of 14 years, after previously pleading guilty to murder.
Rawiri James Samuel, 22, was sentenced last December to life imprisonment with a minimum non-parole period of 12 years, also for murder.
Justice David Collins said the group were drinking in Kuirau Park when Mr Skorek, a visitor to Rotorua, joined them.
At one point Mr Skorek looked at Herewini's crotch and later asked him to go for a walk. Samuels followed them and assaulted Mr Skorek.
As Mr Skorek lay prone on the ground he was kicked and punched in the head and body by the group for about 20 minutes.
They stole Mr Skorek's backpack, containing a knife with a five-inch blade, leaving him unconscious in a pool of blood. They later returned and Samuel and Herewini stabbed Mr Skorek in the face and chest before Herewini cut his throat, inflicting a six-inch open wound.
In court, Edwards read out a letter he had written to Mr Skorek's daughter, saying how sorry he was.
"If I could make time rewind, I would turn back the clock," he said.
He said he had nightmares and it was "always the same dream".
His lawyer, John Bergseng, said Edwards was emotionally immature and was pressured to take part in the attack.
He said Edwards had been smoking cannabis since he was 7, drank heavily and had given up on education. However since being in custody he had made good progress, he said.
Glen's lawyer, Max Simpkins, told the court his client had a difficult upbringing.
When Glen was 5, his father was murdered and the family moved to Rotorua. Glen was bullied at school and became caught up with negative influences, he said.
He said Glen was crying at the outset of the attack on Mr Skorek and did not want to take part. Mr Simpkins said Glen kicked Mr Skorek in the body and stood on him however did not kick him in the head as the others had.
Glen had been on electronic bail since last April and had made exceptional progress, Mr Simpkins said.
He said prison would be counter-productive to Glen's rehabilitation and requested the court instead impose home detention.
However Crown prosecutor Amanda Gordon said violent offending by young people was prevalent and a deterrent message had to be sent.
Justice Collins accepted both boys were susceptible to peer pressure by the older men. He gave them a discount for their age, genuine remorse and rehabilitative prospects.
"You have both shown considerable abilities to make something of your lives," Justice Collins told them. "I sincerely hope that both of you will do all you can to put this terrible crime behind you."