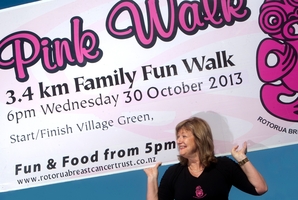 It's a blaze of pink and laughter - but behind the smiles of Rotorua's Pink Walk there's a real air of emotion.
For Rotorua Breast Cancer Trust chairwoman Sue Winters, there's little doubt the event is a special one and she hopes this year's walk will be as successful as the ones before.
The walk will be on October 30 and is the major local fundraiser for the trust.
Mrs Winters said it was a great way to "treasure women" as well as raising money.
All the money raised through the walk remains in Rotorua - helping to subsidise local programmes for those undergoing treatment as well as providing other support for local women with breast cancer.
Mrs Winters said last year a record 2000 people turned up for the 3.5km walk, which raised more than $10,000
They encouraged people to dress up with prizes for the best dressed male and female, young person, group and the best decorated bra.
"It's just a blaze of pink."
Mrs Winters said it was a real family event. "There is emotion in the air because some of the people that come along either have had breast cancer, are dealing with it at the time or have family and friends with it. It touches so many people."
Mrs Winters said because the breast cancer journey was so different for each woman, the trust worked hard to tailor its support to meet the needs of the individual.
Sometimes it was as simple as a text or phone call while a woman underwent treatment, she said.
"None of us know what is around the corner. None of us know when a member of our family or a friend might need support."
The festivities start at 5pm with the walk starting at 6pm.
People can register online from Monday by visiting www.rbct.co.nz. Entry is $5.