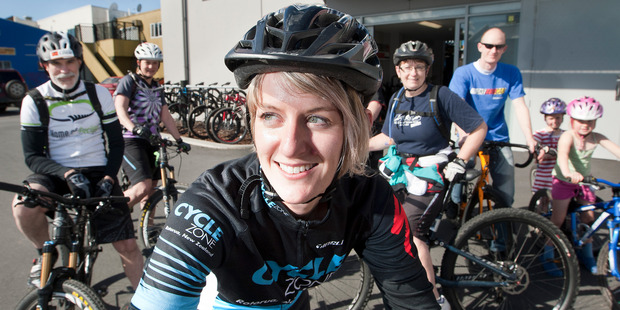 Kelly Shrimpton admitted to being a bag of nerves before she went out on her bike yesterday.
The group ride marked day one of her "31 Ks for 31 Days" challenge to raise $10,000 for Leukaemia and Blood Cancer New Zealand in memory of her partner Nick Bolton, who died from cancer. The 34-year-old is planning to ride 31km every day for the 31 days of October and yesterday set out for a ride with about 20 others in the Whakarewarewa Forest.
"I'm quite nervous," she said. "But I've done all the training so I feel pretty confident. I'm quite sure of my ability to do it but it's unknown at the same time."
She was inspired to do the "31 Ks for 31 Days" challenge during a mountain bike ride in June on what would have been her late partner's birthday.
Miss Shrimpton and Mr Bolton, who was English, were together for about a year.
They met in Rotorua and in 2006 they went to Dublin after Mr Bolton's work visa ran out.
Miss Shrimpton said her partner had been unwell for about three months. Mr Bolton told her to go back to New Zealand while he returned to the United Kingdom for check-ups. Miss Shrimpton headed home and a week later Mr Bolton was diagnosed with non-Hodgkin's lymphoma. Miss Shrimpton said Mr Bolton thought he would get well and join her in New Zealand. He died the following month aged 31 - the inspiration for riding 31km a day.
Miss Shrimpton hopes to ride 1000km during October. She's recording each ride using GPS and Strava and will regularly update her Facebook page.
Some rides will be with others - on Friday she will ride tandem with Dave Donaldson - others will be solo.
So far she has raised $3472 and has donation buckets in Cyclezone and Zippys.
For more information on Miss Shrimpton's ride, check out www.facebook.com/31Ksfor31Days or to donate go to www.givealittle.co.nz/cause/31Ksfor31Days