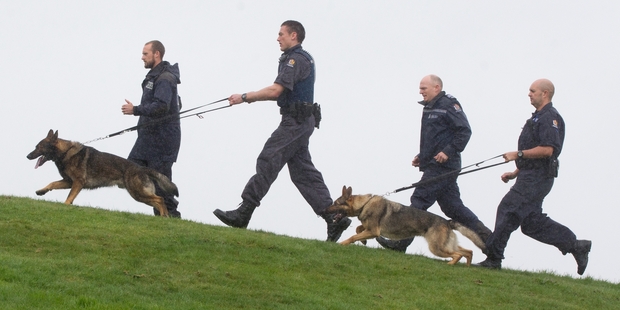 Dogs need a lot of exercise but Rotorua police dog handlers have given themselves a physical challenge that will surpass anything they put their canine companions through.
In April next year, Constable James Fitzgerald, Sergeant Jason Owen, Constable Regan Mauheni and Constable Luke Layland will take on the Oxfam Trailwalker, a 100km team event in Taupo. The event involves all four members completing 100km of mostly off-road trails as a team.
"The dogs will probably help us at the end - they'll be full of beans and pulling us along," said Mr Fitzgerald, who is team captain.
He said the section, who have entered as Team Delta, their call sign, regularly take on physical challenges as a team.
In December, the other three members will take on The Goat Alpine Adventure Run in the Tongariro National Park. They have raced in the 3D Rotorua half marathon and completed various physical challenges as individuals.
"This will be great advertising for us - we do dog displays in schools and people know who we are but it's another way of getting us out there," Mr Fitzgerald said. "We don't do too many displays in Taupo. This is also a way of keeping us fit and there's good camaraderie."
He said they had set themselves a finish time of between 18 and 24 hours but "we want to be quicker".
"We might walk some and then run some to break it up."
The group are aiming to train as a team after Christmas, giving them four months to build up to the endurance event, which is also a major fundraiser for Oxfam.
Mr Fitzgerald said the longest run he had gone on with his dog, Asta, was 3km.