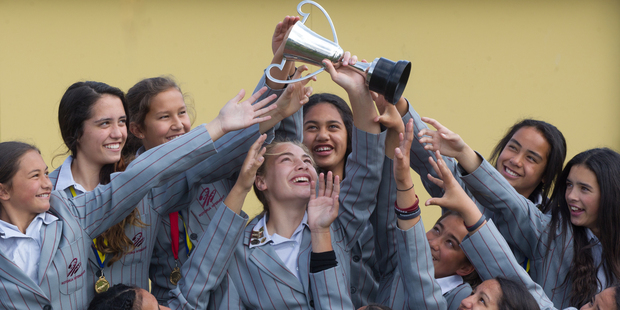 Rotorua Intermediate School's netball team have reclaimed their champion title at one of the biggest intermediate-aged sporting events in the country.
The Year 7 and 8 girls won this year's Netball A grade at the New Zealand Community Trust Aims Games in Tauranga recently. They defended last year's title and are the first school to win back-to-back in the competition.
Captain Briana Cardon said bringing home the trophy was the team's ultimate goal leading up to the event.
"We've been training together for the last eight months and we've been working hard on our fitness running heaps around Hospital Hill and Smallbone park during the weekends and holidays," she said.
The girls were unbeaten in the competition, winning 10 games straight defeating several Auckland schools along the way. In the semifinals they faced last year's runner-up team Northcross Intermediate and again narrowly beat them 25-24.
"The game was a challenge as we were evenly matched and had to work really hard but we co-operated well together for the win," Briana said.
The final against Holy Cross School from Papapatoe wasn't any easier with both teams tied at full-time. A rebound from a missed goal was able to clinch the win and the title for Rotorua Intermediate winning 29-27.
"It was like a weight was lifted off our shoulders when we won," Briana said.
"It didn't really sink in straight away but it was good that our hard work paid off."
Coach and teacher Hinei Taute-Collier said family support played a large part in the team's great result with parents ferrying the students across from Rotorua to Tauranga each day last week.
"I don't think we could have done this without the whanau," Mrs Taute-Collier said.
"The girls are really gutsy, play with a lot of commitment and focus whether it's in training, or their school work.
"They are a very self-motivated group of girls who have had the best whanau support to help."
Rotorua Intermediate School also claimed gold in the open senior and junior trampoline events with Gilad Farkash and Blake Morris. Silver was won in the open junior boys gymnastics section with Michael Stanley and Tyla Paul won bronze in golf.