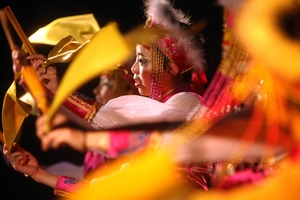 The traditional Chinese Mooncake Festival is expected to attract large crowds at The Arts Village tomorrow night, organisers say.
Multicultural Rotorua president Alexis Lewgor said the festival was a hit last year, attracting 500 people.
"We are really hoping the weather won't put too many people off.
"Apart from the opening with the Chinese dragon dance the festival will be held indoors and people will be sheltered."
The 3000-year-old festival celebrated harvest time and freedom throughout the world.
She said this year's festival in Rotorua would feature traditional Chinese culture, music, dance, food and costumes.
"We have the lion dance with the dragon circling the crowd for the opening ceremony followed by a haka from Ngati Pikiao."
There will be performances by Hanban Chinese singing teachers, qing hua ci dance and traditional dance by Nancy Wang and Miya Tao.
Chinese calligraphist Chen Meng You will demonstrate his skills through the evening.
The festival will include baking and food stalls.
The festival starts at 6pm. Entry is by gold coin.