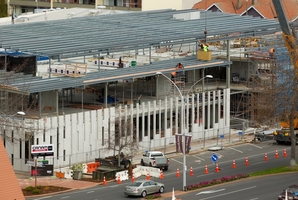 A large crane which has dominated one block of Fenton St is expected to be on the move this week as the new $18.5 million Rotorua police station takes shape.
The external structure is almost finished and by Friday the crane is expected to have lifted into place the final pieces of roofing steel.
Flinn Clark, site manager for Canam Construction, said the project was on target to be finished by April.
"Next week we'll start with the aluminium roofing and the building will be covered to a point.
"These next couple of months are a race to get the building weather-tight."
He said the internal and external carpentry was next on the project, as well as the fitting of sprinkler mains and ducting.
"It's all gone smoothly so far.
"But we're in a bit of a fishbowl. We have the police on two sides and the Department of Labour a couple of blocks away - and they can see us.
"We've built hospitals and labs and this is a bit easier than a hospital.
"It's a different structural system with big internal walls."
He said the design - precast seismic structural system - also known as Presss was earthquake resistant and will be one of the first built in New Zealand.
Presss uses tensioning cables within concrete walls, beams and columns that allow the building to move during an earthquake without sustaining significant structural damage.
The new station is a joint development between the Leuchske Group from Auckland, Vincent Chrisp from Melbourne (which has built several police stations in Victoria, Australia) and Te Arawa designer and artist Lyonel Grant.