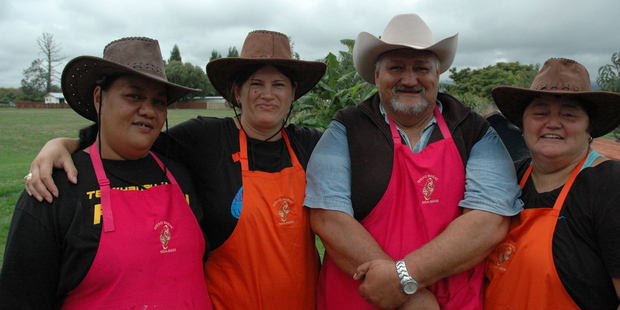 The pressure is on for seasoned Te Teko foodies at Tu Teao Marae who are attempting to win $40,000 in the grand final of Marae Kai Masters.
The four-person team from Ngati Awa territory are up against Ngati Ranginui's Huria Marae from Tauranga with the final being screened on Maori Television from 7.30pm tomorrow night.
The two teams will cook a three-course meal for 200 invited guests at Te Mahurehure Marae in Point Chevalier, Auckland.
The teams will be judged on menu planning, budget shopping, preparation, cooking and presentation.
The Ngati Awa team are described as "old-school, hearty cooks" who specialise in hangi, boil up and kanga pirau (rotten corn).
Team leader Gundy Pryor, a 59-year-old truck driver and family man, is always looking for creative ways to get his mokopuna to eat their dinner.
Te Kohanga Reo teacher Lorraine, or Lolo, Hale keeps the team in line along with Phili Moses, an expert carrot cake baker and a mother of four.
Mother, kohanga reo teacher and fried bread maker Gaynor Paul from Opotiki competes the line-up.
Vegetarianism may be a foreign term to the team from "Texas" but they take their kai very seriously and always have a good time in the kitchen.
Tu Teao team's menu is avocado and shrimp french stick, coconut snapper on cucumber, kuku (mussel) and horopito dumplings for the entree, beef a la Gundy with scallops, mushrooms, potato and kumara mash, and pea and mint mash, for the main course and meringue with mixed berries, cream and custard - or "a volcanic eruption" for dessert.