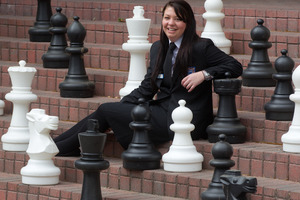 Rotorua student Kaitlin Cotton says helping others is a reward in itself.
The Year 13 student at Rotorua Girls' High School recently received a Community Leadership Award for her service to the school and the community.
Kaitlin had been part of the Rotorua St John Cadets since she was 10 and throughout the years has completed 21 achievement badges to reach the second highest cadet rank of sergeant. She was also involved in the school's Stage Challenge, student council and assisting with the Wearable Arts and Hair competition. As a first aid certificate holder Kaitlin worked at Rotorua events, such as Raggamuffin, as part of the first response team. She said receiving the award came as a surprise but her family were pretty proud of her achievements.
"They think it's cool and said, 'No one in our family have had this before'," Kaitlin said.
Having grown up in the St John Cadets, she is now teaching other young people the values she was taught.
"At the St John Cadets it's a safe place and we welcome everybody. I've learned so much such as self discipline and confidence," she said. "I don't really feel like what I do is community work for me, it's hugely rewarding and I'm just giving back what I've been given."
She credited the help of divisional manager of the Rotorua St John youth division Annette Binnie in the success she achieved.