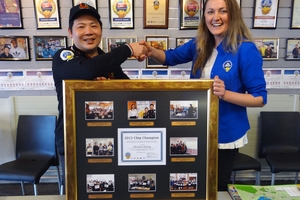 Rotorua's Michael Huang has been named the 2013 Chip Champion to acknowledge his outstanding contribution to the chip industry.
Mr Huang is the owner of Rotorua's Oppies Takeaways and the award is to celebrate that he has trained and inspired hundreds of operators throughout New Zealand to follow his example and adopt the Industry Standards for best practice frying.
Chip Group chairwoman Glenda Gourley said Mr Huang gave his time enthusiastically and was a true inspiration to the industry.
By following the example set by Mr Huang he has been able to inspire other operators to remove a huge amount of fat from the New Zealand food supply, Mrs Gourley said.
Chip Group training and education manager Kate Underwood said in Matamata Mr Huang was able to motivate 10 operators to remove 1711kg of fat from that town's food supply.
It showed when individual operators made small changes to their frying techniques it had a big impact on the food supply, she said.
This is the first time the Chip Group has handed out the award and it was reflected Mr Huang's unique contribution to the industry.