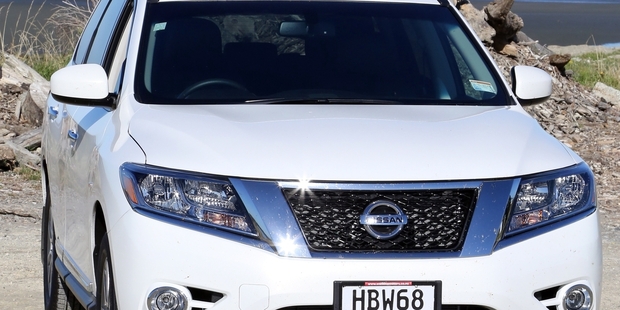 If ever a vehicle was to say it's more for driving on road than off road then it has to be the new Nissan Pathfinder.
It's predecessors were built with an undeniable gene that said it didn't mind getting up to its hocks in gunge and barrelling right through to the other side.
But the newcomer more or less stamps its mark as a big seven-seater, more than capable for sure, but with its nose more certainly pointed down the highway rather than those scrub-covered valleys where on the ferals roam.
That said we don't have an issue with this slight deviation. Really from the beginning, vehicles like this had people as a focus rather than searching for the source of the Nile.
The outside is definitely more refined and the interior certainly has sedan rather that SUV underscoring every part of it. It looks good. With its signature bold front end, high flanks, eye-catching rims and splashes of chrome here and there, it shows off a face that hints broadly of its birthplace - the USA.
The Pathfinder really is a universal car. Its predecessor was built in Spain but this one comes from Nissan's production line in a town a little way south-east of the city of Nashville, Tennessee. Smyrna is its name, a city with a population a couple of thousand less than Wanganui's.
Planning began to build a Nissan Motors manufacturing plant and in the early 1980s and in 1983 the first vehicle was produced. The plant now employs about 6000 workers, has a production capacity of 500,000 vehicles annually. As well as the Pathfinder, the factory also runs out Nissan's electric vehicle, the Leaf.
The vehicle looks as if it's been designed with the US market clearly in view. It's big on the inside as it is on the outside but it's not so big as to be overwhelming. But it comfortably accommodates seven seats.
We've been driving the four-wheel drive Ti, the dearest of the trio at $65,990. But it's reasonable to assume the entry level ST - in two-wheel derivation - will generate some keen interest at $54,990. Giving the ST model traction at all four corners adds $5000 to the price.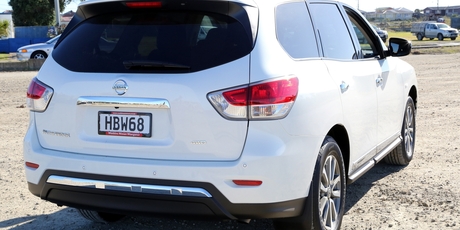 Interestingly too Nissan has dropped the diesel engine in favour of a 3.5 litre V6 petrol engine across the range. And punters needn't worry unduly about losing out in the fuel economy stakes with that change. Nissan's claiming just over 10 litres per 100km for the 4WD Ti and we got close enough to that figure on a 400km trip.
The range shares much of the mechanical and technical specifications but the Ti adds leather finish to the seats and door panels. It also gets a sunroof over the two front seats and a panoramic glass roof over the second and third row, the second row of seats has power assist and both front seats are heated. And there are fog and step lights as well as kick plates.
But it's hard to fathom why here's no sat-nav in the mix, given there's lots of other technical information supplied via that instrument panel including a digital reminders of tyres pressures at all four corners.
The cabin is extra spacious, even with the seven seats in use, and all of them are easy to access courtesy of Nissan's EX FLex system. And while the second row folds in a 60-40 configuration, the third row is a straight 50-50 split.
The 18-inch alloys aren't overawed by the size of the Pathfinder and the 235/65 tyres provide ample grip.
If there was a shortcoming with the newbie it's in the steering. It gets electronic assistance but could be a little firmer to the feel. At times it felt a little spongy and vague.
The V6 petrol engine is a willing performer and given it's shifting around a fair chunk of real estate is remarkably good at the business. Another positive is that the Pathfinder drinks 91 octane fuel and with prices of petrol hovering at ridiculous margins, any saving is welcome.
There's a raft of active and passive safety features in the mix and it also gets hill start assist.
The four-wheel system, would usually be left in "auto" setting meaning it will adapt to the road conditions on its own but usually will run in two-wheel drive mode. You can lock it into two-wheel drive to wring out better fuel economy or dial in four-wheel drive when the conditions get a little bit gnarly.
We liked the Pathfinder Ti because it appears to have found its proper place in the motoring scheme of things. Sure, it's big, but Nissan hasn't wasted one iota of space. Even carrying seven people there is still room in the luggage area. As a five-seater you could load a mountain of stuff.
It doesn't miss a step opting for the 3.5 litre V6 petrol, and the transmission is a perfect fit.
It has a much more refined character to it - probably because the US market has a significant influence - and it is more suburban than safari but that cannot take away from the fact it is capable of tackling some dirty stuff.