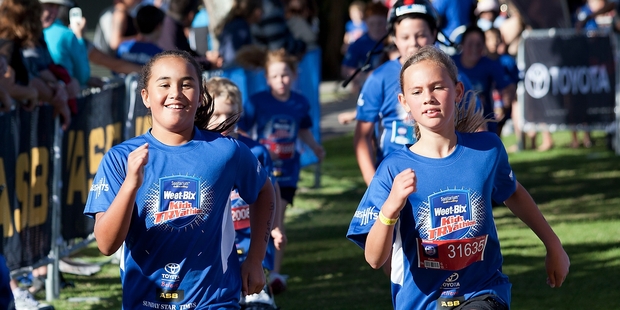 Kiwi kids wanting to take part in this year's Rotorua Sanitarium Weet-Bix Kids TRYathlon better get in quick as there are only two weeks left to register.
The TRYathlon, which has become a rite of passage for Kiwi kids, will be at Kuirau Park on December 8.
Participants will have the opportunity to meet Olympic silver medallist Sarah Walker and Rotorua's own triathlon world champion Oliver Shaw.
Pierre van Heerden, Sanitarium Health and Wellbeing New Zealand's general manager, wants all kids from Rotorua to fuel up on Weet-Bix and enter in this year's TRYathlon.
"The statistics we received following last year's TRYathlon are a clear indication that kids from all over New Zealand thoroughly enjoy the event and we want even more to take part this year," he said.
"With increasing obesity rates in children of this age bracket, there is even more reason for kids of all levels of sporting ability to take part. The event focuses on encouraging kids to participate, achieve their personal best and most of all to have fun."
Every child who takes part receives a race pack, a race T-shirt, a swim cap for all swimmers, a certificate and a medal.
Breakfast is also available to all kids participating.
The Weet-Bix Foundation continues to help more children take part in the TRYathlon. Teachers and community leaders can apply for support from the foundation on behalf of a child between the ages of 7 to 15. The selected nominees will be provided with a subsidy on entry fees, or a subsidy of necessary equipment to complete the event.
Registrations for the swim-bike-run event and nominations for Weet-Bix Foundation can be completed online at http://tryathlon.weetbix.co.nz/ or phone 09 531 5080. The deadline for registrations is Wednesday, December 4.