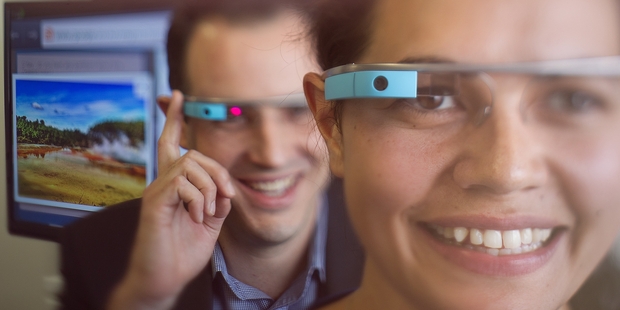 Rotorua Westpac customers have had a glimpse of what mobile banking will look like with the latest wearable technology.
A Google Glass demonstration was held this week as part of the bank's national roadshow - giving a handful of Rotorua customers an opportunity to try them on and experience a prototype of the Cash Tank app specifically designed for the glasses.
Manager of Westpac online operations Andrew Phillips said the bank wanted to be prepared as mobile banking was growing with 60 per cent of New Zealanders accessing their accounts on their mobile phones and the number of tablet owners growing each year. "For us, we're not saying you need this but this is the next big thing and we're wanting to be ready for our customers with this banking app," Mr Phillips said.
The glasses are voice activated and can be used on their own or paired with a mobile device to strengthen the 3G signal. Users can scroll through a menu by swiping their finger alongside their temple or moving their head up or down.
Easy voice commands through the Cash Tank app can instantly offer options such as viewing bank account balances, transferring money and finding the closest ATM.
"Security is as important to us as it is to our customers. It has to be safe as we're dealing with people's money so we will not be putting this on the market unless we are completely confident of the security," Mr Phillips said.
Bay of Plenty area manager Dave Seymour said the feedback from the roadshow by customers and staff had been positive.
"This is customer driven rather than technology driven, we already have our Cash Tank on the [Samsung Galaxy] Smart Watch. We are driven by our customers and if they choose this technology then we want to have the ability to offer this to them," Mr Seymour said.
Impressed by the Google Glass and the app were locals Mariana Watson and Alex Pearce. "I think they are really amazing, I'm loving the new technology," Ms Watson said.
Accountant Mr Pearce said it was an interesting demonstration.
"It's been interesting to be able to touch and use something that's been a big show on the internet. I'm not sure if I'll buy them, I think I will wait and see what the next big thing is that comes along," Mr Pearce said.