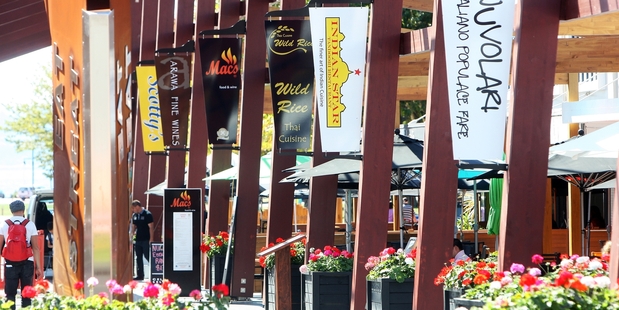 Ten out of 11 Eat Streat businesses with outside dining areas have opted to buy retractable awnings for their premises in the final stage of the development.
Rotorua District councillor and Inner City Revitalisation strategy leader Karen Hunt said that was a strong endorsement of the Eat Streat concept by businesses.
Mrs Hunt said each of the premises required a different sized retractable awning at an average cost of $22,000. The awnings should be ready to be installed in June with the structure's design allowing for additional awning units to be fitted in the future.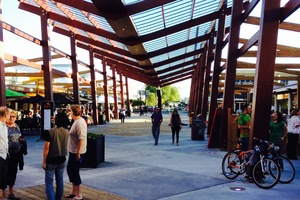 "These are quite large structures, typically in the vicinity of 6m by 10m, with white overhead coverings. Opening and closing is controlled by electric motors.
"Each roof unit fits into the side timber framing off the central Eat Streat roof structure. The covers will extend from each restaurant building, over the outside dining area, and lock in underneath the central roof framework."
Mrs Hunt said she applauded the confidence shown by business owners. "Especially given that many have had pretty challenging times in recent years with the economy making things tough for the hospitality sector.
"However, I'm confident that the new retractable roofs are going to provide that final transformation of the old street into our city's smart new Eat Streat all-weather dining and entertainment precinct.
"This has been a really important partnership between council and businesses, one that will contribute substantially to our strategy for revitalising the inner city."
She said wooden dividers between premises' dining spaces had been installed, as had windbreaks at either end of the area.
"Underfloor geothermal heating will be ready to go live soon and newly installed business signage means each of the premises retains its own distinct identity and personality, adding to the vibrancy of the whole city."
A new restaurant and bar has also opened up on the street - CBK (Craft Bar and Kitchen)
Merchants and Providores. CBK opened on Thursday in the former Triple 1 Five site.
It is owned and operated by two directors, Peter Busch and Tony Scott and its general manager is former Triple 1 Five owner John Knight.