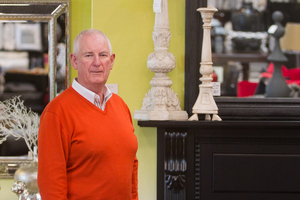 For 47 years, Mike Steiner of interior design store Steiners has been helping furnish homes in Rotorua and around the country.
In a nutshell, what does your business do?
We have three aspects to our business; retail store, design studio and soft furnishing/upholstery manufacture. We work extensively in homes throughout New Zealand.
What inspired you to set up your current business?
I joined the company, then known as Curtain Textiles in Eruera St in 1965.
I loved the industry and there was no looking back.
The last 47 years have just flown. We still work with some of my first clients and in many cases, with their grandchildren.
What was the best business decision you have made?
To stay as an innovative and creative retail design store and to stay true to the principles, philosophies and service ideals established when the original company opened in 1961.
What was your worst business mistake (if any) and what did you learn from it?
I don't think I have made one of any significant consequence.
What do you see as the biggest opportunity for your business in the year ahead?
The energy we have, the vigour and enthusiasm; the fact that my son has now become an integral part of the company with the same enthusiasm and personality traits as myself - our future is well assured.
If you could do any other job for a day, what would that be?
I can't think of anything I'd rather do!
How do you maintain a healthy work/life balance?
I don't.
What's the best thing about being in business in Rotorua?
We are committed to the city and the city supports us extensively.
Rotorua is centrally located and this allows us to service clients in the Bay of Plenty, Waikato and South Waikato.
If you were mayor of Rotorua for one day, what one change would you make?
I would orchestrate the removal of the City Focus - I consider it to be a huge impediment to the advancement and revitalisation of the inner city. It cuts the inner city in half and blocks vision, traffic and pedestrian flow - it is a big, unattractive waste of space where people gather to loiter.