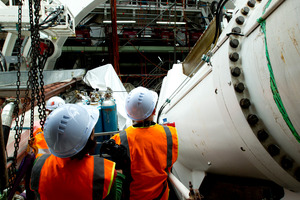 The custom-built Earth Pressure Balance Machine (EPBM), called Alice. Photo / Dean Purcell
Meet Alice: underground sensation, very big lady, and right boring work-aholic.
The Herald on Sunday can reveal Alice, the giant $55 million tunnelling machine now fully assembled and sitting ready to roar into action in a trench near Mt Albert. In the next few weeks Alice will begin digging two parallel 4.9km tunnels between Owairaka and Waterview completing the Manukau-Albany ring route.
At $1.4 billion and with a completion date of late 2015, this is New Zealand's largest roading project, but members of the public hoping to get a good look at Alice are out of luck because 20,000 tickets to tomorrow's open day have already been snapped up. Next best is a visit to a viewing area at 108 Methuen St, New Windsor, or go to www.nzta.govt.nz/waterviewconnection