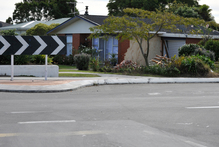 Police say it's only luck that a spate of high-speed pursuits and a crash in the North Island did not end in serious injury or death.
In the first incident, Constable Chris Wakelin was alone in his patrol car in Woodville, near Palmerston North, late on Tuesday night when he saw a speeding vehicle doing a dangerous u-turn on State Highway 2.
Mr Wakelin said the pursuit lasted only about a minute when the car, which was stolen, turned into a dead-end street and then into a driveway.
The driver and male passenger got out and ran off, the car rolling backwards into the police car.
Mr Wakelin chased them and caught the passenger but police were yet to find the driver.
Mr Wakelin said it was fortunate no one was hurt or killed.
"If anyone was coming across that section of state highway that they crossed it would have been a different matter altogether. It's frustrating how they feel they can put public in danger like that," he said.
Less than 14km away, in Ashhurst, another car was clocked driving at 120km/h about 3.30am, Inspector Marty Parker of police central communications centre said.
After a pursuit, spikes laid down by police stopped the car near Palmerston North Hospital. The two occupants fled into the hospital grounds but were caught shortly afterwards.
Another high-speed pursuit on Auckland's North Shore yesterday also ended when police laid down road spikes.
The chase started in the Rosedale Rd area in Albany and ended at Hobsonville Point.
Two men in their 20s allegedly involved in thefts in the area were arrested.
In Gisborne, an elderly woman was trapped in her bedroom after a speeding car became airborne and crashed into her lounge yesterday.
It was initially reported that the crash followed a police pursuit but police later said this was not the case and that the vehicle had sped past a patrol car.
A neighbour, who watched the accident from his front lawn, estimated the car was travelling at 120km/h before hitting a traffic island at the intersection and becoming airborne.
"He didn't even try to turn the corner. Just went straight into the house."
He said police were right behind the vehicle.
Police had to remove debris from around the front door before the woman could be removed from her house. She was taken to hospital but later discharged.
The driver was charged with a number of offences including drink-driving.
Waitemata district's strategic road policing manager, Superintendent John Kelly, said trying to flee police was, without exception, a "dumb move".
"The first reason it's dumb is you put yourself and other people at risk when you don't stop. The other thing is, in the end, all you're doing is adding charges to whatever offending you may have been doing.
"Sometimes people take off for a very minor reason - it might be a warrant of fitness or a speeding ticket or something like - but they end up getting jail time out of it," he said.
Recent figures show around 2115 drivers fled police last year, a 10 per cent decrease on 2009 figures.
As a result of pursuits, five people died and 89 were injured last year, including 69 people in offending vehicles, four police and 16 innocent bystanders.
Police abandoned 48 per cent of pursuits last year compared with 29 per cent in 2009.
SPEED FREAKS
* 10.40pm Tuesday: police pursuit for about 1.5km in Woodville near Palmerston North
* 3.30am Wednesday: pursuit for about 14km from Ashhurst to Palmerston North Hospital
* 12.30am Wednesday: a speeding car flew through elderly woman's lounge in Gisborne
* Early Wednesday: police pursuit through Auckland's North Shore lasting about 11km.
- APNZ