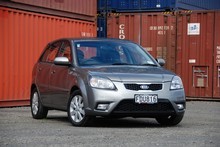 Forget carnival glamour. Kia's Rio won't prompt bikini dreams, even with its recent facelift. The major change is the "tiger-nose" grille that links it with other Kias - and the nomenclature. No longer is there a rather misleadingly named "Sport"; this time there's a base LX and an EX in hatch or sedan format.
We've got the EX, and though the body is basically identical to the pre-facelift car, that family grille imparts a rather smart air, so the cabin ambience comes as something of a disappointment. Not that there's anything wrong with the design, it's just the materials suggest it's been built down to a price.
Those hard plastics are likely to mark easily and fit and finish is spotty - the boot especially looking very tired for such a new car.
But look a little further and you'll find much to like. Kia has certainly not skimped on features, from luggage tie-down loops and three child-seat tether points in that boot to the six airbags, stability control and ABS of the safety equation.
Where the $22,990 entry car gets 14-inch steel wheels, this $24,990 EX has 15-inch alloys and some upmarket kit , like climate-control air, the boot's luggage net, the leather-trimmed steering wheel and multi-function trip.
There are even steering wheel-mounted audio controls; the finish might carry a whiff of budget but the features list certainly doesn't.
The drive experience is a similar mix. This 1.6-litre engine uses variable valve timing to do a reasonable job of punting the car along. That said, you won't win any sprint races, or enjoy the engine noise under keen acceleration.
I didn't see anything like Kia's 6.8l/100km fuel claim either - an extra cog for the four-speed auto would pay dividends.
But once you've got your pace up, it handles competently enough and ride comfort was impressive, the suspension ably offsetting the lumps and bumps of my daily B-road drives.
Certainly the ride - like the features list - doesn't feel as cut-price as the cabin plastics.
If they annoy you, you'll buy elsewhere; otherwise you'll appreciate Rio's honest-John approach.
Kia Rio EX auto hatch
We like: Handsome looks, decent specification for the money
We don't like: No reach-adjust for the steering wheel, cheap cabin plastics
Powertrain: 1.6-litre variable valve timed four, 82kW at 6000rpm, 145Nm at 4500rpm, four-speed auto drives front wheels
Performance: 0-100 in 12 seconds, 6.8l/100km
Safety: 6 airbags, ESP stability, ABS brakes
What it's got: Climate-control air, heated mirrors, aux and USB ports, boot net, five-year 100,000km warranty
Vital stats: 3990mm long, 45-litre tank
By Jacqui Madelin