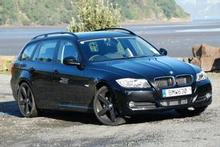 BMW owners don't have a good rep. They don't indicate and they buy their cars on looks and image - or so the stereotype goes. It's enough to put you off buying one, which is a pity, for although pricey they aren't half bad.
Not that this 120d wagon helps. For it's been enhanced by adding some rather sexy but definitely OTT black wheels. Would you spend 10 per cent of the price of your new car on after-market bits? People do, and pay handsomely for it - these $9983 alloys add considerably to the car's starting price of $79,900. More than that actually, because the universal comment was that black wheels on a black car require coloured brake calipers.
You can buy a performance braking package, but why would you when the brakes work just fine and the car is a family runabout? BMW recommends a chat to your dealer, who can organise a spot of painting, with all four calipers dealt to for about $450 rather than $5000 for the performance package.
In the past BMW has focused on the drive experience over load-lugging, but this car offers better balance.
Performance has not been forgotten. The 2.0-litre in-line turbocharged four pulls strongly and the rear-bias of the chassis offers a delightful liveliness to the handling that's rather unexpected from something otherwise so useful.
The suspension is well controlled and sufficiently compliant over bigger bumps, although a little firm on smaller ones, no doubt because of the skinny run-flat tyres.
Fuel economy is reasonable too. Despite a keen approach to the throttle, our 6.5l/100km average was close to BMW's 6.1l/100km claim. Families will appreciate that at the pump.
There is also stability control, six airbags, auto high-beam lights plus a lot more.
Of course you pay for it - but not as much as you pay with the wheels thrown in.
BMW 120d
We like
Nice-handling, practical wagon with smart looks
We don't like
"BMW owner" rep, price of after market wheels, run flat tyres
Powertrain
1995cc turbo diesel, 130kW/350Nm, six-speed auto drives rear wheels
Performance
0-100km/h in 8.3 seconds (auto), 6.1l/100km thirst
Safety
ABS, stability control, six airbags
What it's got
Park distance control, Bluetooth
Vital stats
4527mm long, 460-1385-litre boot, 61-litre tank
By Jacqui Madelin