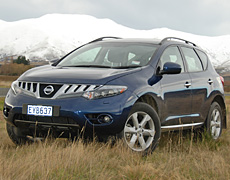 Nissan's Maxima and Murano may fulfil their design brief, but they've hardly had a high profile. Maxima's segment has been dominated by the Aussie rear-drive sedans with the front-drive segment governed by Toyota, while Murano (below) has been overshadowed by Mazda's CX-7.
What's new
This fifth generation Maxima is a slightly edgier-looking evolution of its predecessor, built on a new platform with a new multi-link rear suspension. The 185kW/326Nm 3.5-litre V6 has been joined by a smaller, 134kW/228Nm 2.5-litre V6 that bridges the gap to the medium segment. Murano shares the Maxima platform and CVT. The motor's dropped 30mm and the driveshaft flattened to lower the centre of gravity and reduce torque steer. Power is up 19kW and the features include a reversing camera, leather, keyless start and an electrically-opening tailgate.
The company line
Maxima; "If someone wants to downsize we're ready with the 2.5; if you want to downsize further, consider Qashqai." Nissan expects the 3.5 to sell better initially, with the 2.5 the longer-term leader.
What we say
Don't be too quick to opt for the 2.5 as 3.5 is working less hard.
Murano's visual character and road-oriented, punchy performance should please.
On the road
Maxima's $43,495 2.5 doesn't feel underpowered, but the car's thirst shows it's working hard. We didn't get close to the claimed 9.5l/100km figure, while the $46,995 3.5 happily returned a figure not far from its 10.2l/100km claim. Maxima's compliant ride and confident handling will please most drivers.
Murano? It's a sporting-focused SUV for drivers who want an eye-catching, high-riding four-paw wagon. Increased stiffness has paid off in terms of handling. But be prepared to pay the fuel penalty.
Why you'll buy one
Maxima 2.5, because you want a big car without a big engine; the 3.5 as it's well priced. Murano for its eye-catching and looks, practical comfy cabin for a $59,900 starting price.
Why you won't
Maxima because you prefer rear-drive. Murano - just look at the fuel bills. Mazda's also thirsty and similarly-focused CX-7 is cheaper, but why buy an SUV if you won't be going off road?