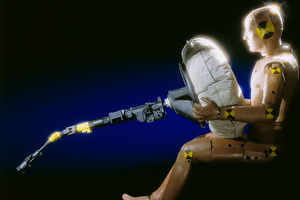 New Zealand's car companies are urging owners of more than 6000 cars, expected to be recalled due to concerns about faulty airbags, not to worry about safety.
They are part of a global recall of more than 3 million vehicles made by Toyota, Nissan, Honda and Mazda.
The company which manufacturers the airbags for all four companies, Takata, has reported a potential safety defect in the front passenger airbag inflator which could "cause the airbag inflator to rupture and deploy the airbag abnormally in a crash".
Toyota expects to recall more than 1.7 million vehicles globally, Honda more than 1.1 million, Nissan about 480,000 and Mazda more than 45,000.
Toyota New Zealand spokesman Spencer Morris said about 5000 Toyotas in New Zealand produced between 2001 and 2005 would be recalled.
It was a precautionary measure and there were no concerns about customer safety.
"To our knowledge there have been about five incidents globally so when you think about 1.7 million cars, it's quite a low incident rate.
"In cases where the airbag has been found not to inflate properly we're not aware of any injuries as a result of that."
It is the latest in a series of recalls for Toyota. Last year it recalled 2.7 million vehicles to fix faulty steering, while a further seven million vehicles were recalled due to a fire risk caused by a faulty window switch. In 2009, almost 12 million Toyotas were recalled due to issues with floor mats trapping the accelerator pedal.
Nissan New Zealand said about 220 of its Pulsar, X-Trail and Patrol vehicles manufactured between 2000 and 2004 would be recalled here.
However, the company was unable to quantify the number of its vehicles imported into New Zealand as used cars that would be affected.
Nissan would write to affected customers so a new component could be installed free of charge to rectify the fault.
About 900 Honda Civics sold in New Zealand between 2001 and 2003 will be recalled, as well as at least 124 Mazda6s produced in 2002 and 2003.
Cars being recalled in New Zealand
Toyota: Corolla, Avensis, Picnic, Lexus SC430 produced between 2001 and 2005
Honda: Civic produced between 2001 and 2003
Nissan: Pulsar, X-Trail and Patrol produced between 2000 and 2004
Mazda: Mazda6 produced between 2002 and 2003
- APNZ