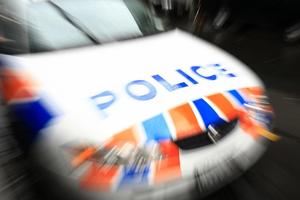 A Napier man walked away with minor injuries from a serious truck crash on Rakauroa Road at Matawai, inland from Gisborne, yesterday.
Emergency services say it's a miracle he is alive.
The man's truck and trailer unit rolled down a steep bank on the back-country road at about 6.30am yesterday.
A St John ambulance crew from Gisborne was called to the scene about an hour later.
"The driver told us when we got there that he had got out of the truck cab and walked about two kilometres to a farm house to get help," a St John spokesman said.
"He sustained only minor leg and arm injuries."
The 43-year-old driver was taken to Gisborne Hospital for treatment, and was discharged later in the morning.
Matawai police officer Constable Mutu Noanoa said the driver tried to get out of the cab of the truck as it went over the bank, but it happened too quickly for him.
"He was in the vehicle as it rolled three or four times, 50 to 100 metres down the slope," Constable Noanoa said.
"How he survived, I just don't know. It's a miracle."
The general carrier unit was carrying a load of fence posts.
St John staff said the driver told them the truck trailer slipped out on him on a narrow section of gravel road.
"The trailer went over the bank and pulled the truck with it."
They agree the man was lucky to walk away from the crash with only minor injuries.
"It really is a miracle he survived it.
"It must have been a nightmare for him."
The truck came to rest on its cab.
The load of posts remained securely on the deck of the truck and trailer.
Constable Noanoa said it was going to be an extremely difficult operation to recover the truck and trailer.
"It's not possible for a crane to do it, so I understand they are going to try to use a helicopter on Monday.
"It will need to be a big helicopter if that's the option they use."
- APNZ