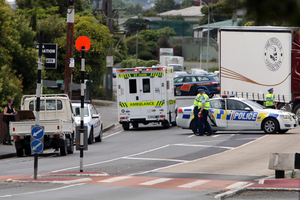 An eight-year-old girl is seriously hurt after being hit by a truck near the pedestrian crossing on State Highway 1 outside Otaika shops, just south of Whangarei city.
Police and ambulance staff were called about 3.40pm today and diversions were put in place.
Sergeant Lance Goulsbro of Northland Police Highway Patrol said there were conflicting witness statements about whether the girl had been on the pedestrian crossing when she was hit.
The truck had come to a halt about 30 metres north of the crossing.
South bound traffic was diverted along Otaika Rd behind the shops on State Highway 1 and back onto the main road at the Mt Pleasant Rd junction. Northbound traffic was sent along Arcus and Mt Pleasant Rds, and via High st into the city.
It was expected a scene examination would take some time and traffic movement would slow as worker traffic began to stream along the route.
For more articles from this region, go to Northern Advocate