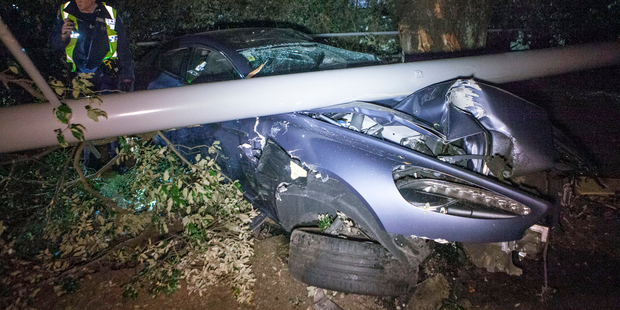 Do you know more? Contact the Herald here.
A late-model Aston Martin worth as much as $330,000 did not look so luxurious after crashing into a lamp post on Auckland's waterfront early yesterday.
The dark-blue four-door Aston Martin Rapide, one of just 25 believed to be in New Zealand, failed to handle a slight bend on Tamaki Drive at about 3am, mounted the footpath and ploughed through a garden before hitting a power pole, which then fell across its bonnet.
Photos of the crash opposite the Royal Akarana Yacht Club showed substantial damage to the front of the car - both wheels were caved in underneath the crumpled bonnet and the windscreen was shattered.
Emergency services were able to extract the driver, described by witnesses as an Asian man aged between 30 and 50, who was treated by St John Ambulance staff at the scene.
He then walked to a police car, which took him away.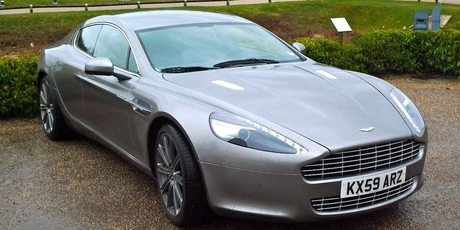 A local Aston Martin expert, who did not want to be named, said the luxury car model was released in 2010 and was "quite exclusive". Only about 25 of the vehicles were in New Zealand.
He said it retailed for $330,000 and the photos showed how special safety features, called specific crumple zones, absorbed the impact of the crash.
The 6.0-litre V12 engine car can reach 100km/h in less than five seconds. Between 500 and 1250 of the sports cars are made by Aston Martin each year.
A 2013 model with 800km on its odometer was selling for $359,380 on autotrader.co.nz last night.
Autocar.uk ranked the vehicle third on its Ultimate Luxury list - drawing attention to its leather interior and individually controlled air-conditioning, as well as its 16-speaker sound system.
The yacht club's academy sailing manager, Fendall Halliburton, said the corner was a common site for accidents. "There's a good curve in the road that fools a lot of people and their cars knock over posts and trees and things quite regularly, but not usually anything as exotic as an Aston Martin."
A police spokesman said the accident closed the road until about 5.30am, but other details about the cause and any consequences for the driver were unknown because of police shift changes.