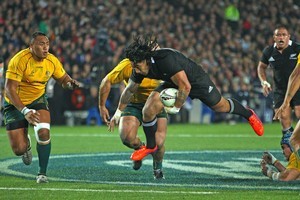 The interesting question now is: what happens next with the All Blacks? After last night's victory, they are off to South Africa and all the signs are that they will take a much-changed squad - but they can take only 26.
Their goals will have been simple in the Tri Nations - beat the Australians here and in Brisbane. Last night they ensured the Eden Park hoodoo remains in place, in case they meet in the World Cup final. Beating them in Brisbane would also help erase the mental edge achieved by what the Reds did this season in Super Rugby.
The All Blacks' objective will also be to beat the Boks at their home base on August 21, as they will not want to field a top side against them right now.
If the bizarre were to happen and the All Blacks were beaten after the Boks load back some of the 21 senior players missing on their visit here, that would only boost the South Africans' confidence after all the silly-buggers stuff Peter de Villiers played by bringing that under-strength side down here.
I don't think the All Blacks will try and play silly buggers with de Villiers, but they will probably change their team around to see if they can identify their first XV a little more and, at the same time, keep some of their powder dry - and still beat the Springboks in Port Elizabeth.
That's the strategy I think the All Blacks' coaches are pursuing and I think it is sound. I think the team we saw last night was close to their first XV at present; and especially in the pack.
Some people are worried there are too many changes and that it is getting too close to the rotation that scarred our 2007 World Cup campaign.
But I don't think that is what we are seeing. I think they are having to mix and mingle a bit because of all the injuries and because they are still trying to nail down their best first XV - and fair enough. All of these players in this All Blacks squad deserve to be there. For the first time in a long time, I believe there are no players who don't deserve a place. The current squad are all entitled to be there. There is none of the likes of Stephen Donald and Luke McAlister there.
With players like Cory Jane, we never dissed his ability; merely his form. Now he's getting right back to the good stuff in the All Blacks environment. The same goes for Andrew Hore.
I think that gives the lie to those Aussie loudmouths who reckon the All Blacks are over the hill or have peaked too early. Yeah? They aren't anywhere near peak form yet and that's how it should be.
So who will they play against South Africa on August 21? The word is that they will take Isaia Toeava away and play him and I'd go along with that. They will probably take Tony Woodcock too although I am less sure about that. I don't know, with his lack of rugby, that he will bring anything else to the party that Wyatt Crockett doesn't. For me, Woodcock should have played the whole 80 minutes in his last match for North Harbour, not just 40 minutes.
It depends how the All Black coaches view last night's comprehensive victory over a strong Wallaby side, but the two wingers (Hosea Gear and Sitiveni Sivivatu) and Ma'a Nonu and Conrad Smith might have had their last chance to show their wares. I'd say Jane has one wing spot sewn up and it's between Sivivatu, Zac Guildford and Gear for the other spots, with Toeava and Israel Dagg maybe clouding the issue.
Gear might get another run but they may change out the backline a bit. Piri Weepu had his chance to supplant Jimmy Cowan as No1 halfback last night and I'd say South Africa might be a good chance to get Cowan back, with Colin Slade at first five-eighths and Sonny Bill Williams at No 12.
The wingers would be whoever they felt needed another shot to prove themselves and Dagg could feature there too. If he is going to make it back for the World Cup, they need to start him off soon - although if Toeava goes, that might mean Dagg will wait until later for a run.
In the pack, you could see Ben Franks, Woodcock and Andrew Hore start with Ali Williams needing another start in the second row. They may choose to rest Richie McCaw to keep bringing him up in form slowly, so he is at his peak for the World Cup, giving Adam Thomson another chance to cement his place.
If this is all sounding like rotation to you, I think it is different this time - a strategy for every game and in the build-up to the Cup; as opposed to rotation for the sake of it.
Also, from what I am hearing from the Republic, de Villiers doesn't know what he is doing and is bewildering his fellow coaching staff and the players. That seems to me to be a fine time to beat them with a combination that obviously isn't a first team - a great way to build a psychological edge ahead of the World Cup.