Our intrepid columnist's diary of his Mt Kilimanjaro trek.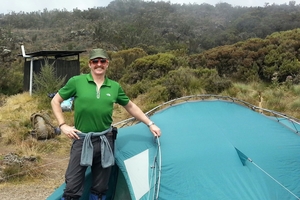 Day 1. Walking gently uphill on a track for four hours. We passed through some rain forest and enjoyed the spectacle of colobus monkeys dancing in the trees. A bit further on we came across a colony of large "killer" fire ants (I added the killer bit). These critters were crossing the path in front of us. I stopped to have a closer look. This would later prove to be a mistake as in precisely five minutes I felt a sting on my leg. An ant had crawled up my trouser and bitten me under the sock!
We have 42 "support crew" in our group. This includes guides, cooks, waiters and many porters. The porters carry copious amounts of gear including our packs, tents, etc, in canvas bags which they carry on their heads or rest on the back of their necks. They walk faster than us too, enabling them to forge ahead and set up camp before our arrival.
There are two other groups walking our route. One has seven young women from various countries and the other has a 60-year-old man with his three sons.
This climb is a birthday present from his boys. These young chaps are American and as soon as they caught sight of me, the old recognition bells rang. Later, as we arrived at the campsite, I was asked by the dad if I would have my picture taken with them. Of course I obliged.
Day 2. We decided to walk only for four hours again today. Camp was set up at a location called Second Cave. This was a good decision I feel because the views and vibes here are stunning. One of the British women from the other group came over and asked me to have a photograph. I got Chris the World Vision CEO (my tent buddy) to take it. I'm not sure how good he is with the camera but the girl seemed pretty ambivalent with the result. I took in a nap in the afternoon after a hearty lunch of spaghetti bolognese. I must say the chefs on this expedition are top shelf.
Later in the day I explored the local area and found a large cave. I deduced that this must be the "Second Cave". There were some interesting markings on the walls including 'Steve woz 'ere '87' - possibly ancient art from the mountain folk who used to dwell in this vicinity. The cloud lifted around 5pm and we were all treated with the sight of Kibo the peak.
There were some white patches on top of it which I discovered after looking through my monocular (half a binocular) were in fact huge chunks of ice.
"It looks like a palace!" said Kerre McIvor. Hmmm an ice palace, "like the one out of Die Another Day?" I said. But there was no response. I let it go, It's probably the least popular Bond movie.
The journey continues next week.