Address:
Elliott Stables, Elliott St, Auckland CBD
bonzcajun.co.nz
Rating:
3.5/5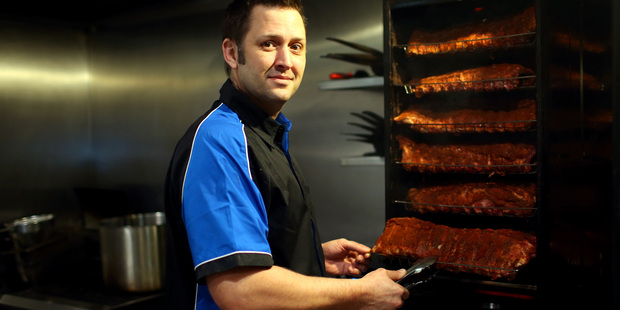 I can't stand the use of the term "the 1800s". Almost invariably, people who use it mean the period between 1800 and 1899, which is irritatingly imprecise: the first European settlers arrived on these shores 200 years ago next year, so talking about our history in great sweeps of a century is not particularly useful. And second, if you use "the 1800s" to refer to the 19th century, how will you refer to the first decade of that century?
I mention this because I see the webpage for Elliott Stables describes it as being "set in the original Archibald Clarke & Sons warehouse in the 1800s". No, it doesn't make sense to me either - there's a word or two missing - but what they are trying to say is that the building went up in the 19th century.
The problem is that it did not. Archibald Clark (no "e"), the first mayor of the Auckland Borough Council and an MP for some years, was a prosperous draper and a clothier. On his Wikipedia page, you may see the Edwardian building whose warehouse space is now the Stables. It went up in 1910, some 35 years after the old man died - and it looked very different after extensive remodelling in 1928.
I'm not trying to be picky here - oh, well, all right then, I am. It just seems to me that if Elliott Stables wants to emphasise, as it should, the history beneath visitors' feet, the least they could do is copy and paste stuff correctly from the internet. There: that feels better.
Cajun cuisine, and its slightly more refined cousin, Louisiana Creole, has been conspicuous by its absence in Auckland. It seems odd, really, since it's so distinctive and typically makes for moderately priced comfort food. The smoky Southern style of barbecue hasn't caught on here either, yet the place is lousy with second-rate taco and Tex Mex joints.
So Bonz Cajun Kitchen steps into a large gap in the market. It's the brainchild of Robert Aylwin, one of the founding partners of Dos Amigos cantina in Mission Bay (which is not one of those second-rate taco joints, though the food when I visited lacked zing), and to judge by the posts that have appeared on its Facebook page since it opened a year ago, it has developed a small but intensely loyal fan base.
So it should: it's simple, honest food at remarkably cheap prices: only a big chunk of jerk chicken and an entire rack of pork ribs break the $20 barrier and the $8 small dishes would make a filling meal for a small appetite.
Neither my companion nor I had one of those, however. She's an Irishwoman and she's not one of those sushi-or-salad lunchers, bless her. She told me that she is "dead happy with eating a big lunch. Dinner in our family was always in the middle of the day without fail and Ma sticks to the same routine even at 94".
So she flinched not a bit when I started ordering up large: a "side" each of jambalaya and gumbo, fried chicken and jerk chicken. I whistled the old Hank Williams song ("Jambalaya and a crawfish pie and a filé gumbo") as we waited.
At lunchtime, the kitchen takes orders through a little hatch in the wall, which adds to the backstreet feel conjured by the food itself. For the most part that food won't tear your taste buds with fiery spice, though the jerk chicken will give them a run for their money. Strictly speaking, a Jamaican spice, jerk is a powder made from pimento and the scorching Scotch bonnet pepper, and the jerk-rubbed and flame-blackened chicken skin (which may be easily removed) will have you reaching for a forkful of cool coleslaw.
The fried chicken - crunchy-coated boneless tenderloins, which come with a creamy dipping sauce - is dangerously moreish but, for sheer value for money, it would be hard to overpraise the jambalaya and gumbo. The former is a dish of long-grained rice full of sausage, chicken and prawns and the latter a rich, mud-dark stew. If there was any of the spicy filé, made from sassafras, that is as central to this dish as saffron is to paella, I could not detect it, but it was excellent nonetheless. My advice: get down there today, if not earlier.


Verdict: Bayou golly, that's good.