Ginny Fisher takes in the glittering Louis Vuitton gala and enjoys the glamorous side of sailing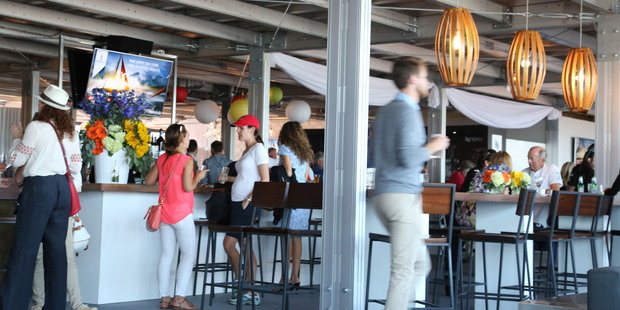 There's something rather odd about sailing past one of the world's most notorious prisons on a superyacht. Larry Ellison's gleaming, 184-ft Asahi, is ours today to view the first of the Louis Vuitton Cup races. As we glide past gloomy Alcatraz, I can understand why none of the 14 attempts to escape this prison were successful; the frigid 10C waters, strong undercurrents and sharks took care of that.
It's a typical summer day in San Francisco. The wind is whipping up 16 knots and the sky is tinged grey with the usual summer fog. It's freezing out here. Not to worry, there are cashmere blankets, buckets filled with champagne and a never-ending supply of small plates of lobster and other delicacies. A journalist from Tatler is swanning around taking shots of his modelesque Hong Kong companion, meanwhile GQ's deputy editor and I take full advantage of the free-flowing champers and the super-soft deck recliners.
The only catch? There is no race, of course. The Italian team, Luna Rossa, is sitting it out until the international jury makes a decision on a last-minute rule change it says disadvantages all potential challengers, while favouring Oracle.
There is tension in the air, even before the first "race".
Even though Team New Zealand is also protesting against the rule change, they decide to turn up to this first round robin.
"We're just here to race," says Dean Barker with his trademark diplomacy.
And race they do. They hoof it around the course in their navy seal-like black suits, manning something that sort of looks like a yacht, but could also be a Batmobile. The black AC72 wing sail catamaran screeches around the corner mark on two foils so fast it's gone before I have a chance to finish my mouthful of tuna tartare.
"And Team New Zealand wins," jokes the GQ deputy editor. "They weren't even trying; wait until you see them really go, enthuses Bruno Trouble, the lovable French sailor who has masterminded the Louis Vuitton Cup for the past 30 years.
"I feel bad today because of the race, it's terrible. It's embarrassing," laments Trouble, in his thick French accent, when we get back to the Louis Vuitton Lounge.
"These boats are too extreme, too expensive. In the previous Louis Vuitton Cup, you could sail for $10 million; this year you need $70 million. Maybe we should have smaller catamarans, and one design. If we don't fix it, it's the end of the America's Cup."
Trouble believes the problems could be fixed with an independent sailing federation, rather than the America's Cup holder, making the rules and controlling the competition.
"The organisers here are indirectly paid by Larry Ellison; it smells a bit off, don't you think?"
I do. But with the odds stacked against us, can we still win the America's Cup?
"If you sail today, you would win. But I'm afraid after two months it might be different. The Americans have time to change their boat and have more than double the budget."
I leave Louis Vuitton's waterfront lounge a little deflated, but am soon cheered by the prospect of an ale at Moa's beer garden. I feel right at home. The decor is a nod to all things Kiwi - a rustic bar, similar to what you'd find at a woolshed dance, sisal daybeds and gigantic sheep banners bleating "baar".
"The daybeds have been so popular, we have had to physically remove people when the bar closes at 7pm," says Moa owner, Geoff Ross.
Sticking with the Kiwi theme, (New Zealanders are everywhere by the way) I wander down to Pier 29 and discover pop-up restaurant Waiheke Island Yacht Club in a huge industrial warehouse. It will close in December unless someone buys it. The brainchild of Auckland restaurateur Tony Stewart, the space smells like macrocarpa and fine food. The rough-sawn timber, imported from home, lends a raw, pared-down aesthetic to the place, and it's no surprise Auckland architectural whizzes Fearon Hay were in charge of the look. They're here, too, and perched at the bar.
"It's already become a great meeting point for all the Kiwis," says Stewart. He points to Leon Grice, New Zealand Consul General based in Los Angeles, here to dine with a large group.
"This is an awesome place to entertain," enthuses Grice, who pops over to chat while entertaining some "very high-net-worth Americans".
The food is simple and beautiful. The Pacific-style ceviche with wasabi sorbet, cucumber, lime and coriander is clean, and has a smooth texture. All ingredients, even the oysters, are sourced from New Zealand - there's fish from Leigh, lamb, and smoked duck with pickled plums.
The bar is busy with glamorous yachting wives; one who is sporting fetching neon orange nails.
"You wouldn't believe who painted them," she giggles.
Apparently one of our sailors does a dazzling mani-pedi.
The next evening I meet up with many more Kiwis at the swish Louis Vuitton gala, held at The California Palace of the Legion of Honor. This beautiful French neoclassical building sits on the windswept Land's End above the Golden Gate Bridge. Also a fine arts museum, it is filled with precious treasures from around the world. Tonight an orchestra plays on a windswept knoll and guests are greeted on a giant blue carpet. It's the Oscars of the yachting world.
The sailors look chic in their black suits and bow ties. Mandy Barker sports a stylish bob and is striking in a floor-length, black lace gown. The French are air-kissing; feather jackets flutter in the breeze and the Louis Vuitton girls don couture-like puffball skirts. Everywhere I turn, a sea of floor-length sequinned gowns blinds me.
In the museum conservatory, gymnasts frolic in what look like clear beach balls, wrapping themselves in the flags of the participating teams.
The champagne is flowing, but our sailors are taking it easy. "We have to lose 2kg at the gym tomorrow morning," says grinder Winston Macfarlane, looking longingly at a tray of pastries floating past.
The Italians have boycotted the gala. Really? Racing is one thing, but a Louis Vuitton gala? The luxury brand's parties are legendary and this is no exception. There is a bar serving freshly shucked oysters and small plates filled with delicacies arrive one after another; a DJ is spinning tunes, and the museum is full of Kiwis. It's perfect.
Many New Zealanders have positions with other teams; we are definitely the dominating force at this event. One, Stu Bettany, is with Artemis and witnessed the awful death of crewman Andrew Simpson in an accident on San Francisco Bay. "It's been tough, it's pretty hard to lose someone right in front of you. And we're still rebuilding out boat, so we're not quite ready."
The party is interrupted by a procession of stunning girls from the Wearable Arts festival, wearing garb that could pass for Parisian couture. The Wearable Arts has come a long way since its inception - these outfits are artistic and beautiful. A cross between a bird and a butterfly wafts past, followed by a Maori princess who clamps down on a red laser-cut moko she holds in her mouth, flashing the whites of her eyes.
Things are getting a little crazy on the dance floor and I wonder how the priceless Auguste Rodin sculptures aren't getting knocked over. The Tatler writer is dancing pretty close to one of the Louis Vuitton girls, and I am so close to a tight-buttocked sculpture that I can't help but touch his bronze behind. Immediately, a museum staffer pounces on me.
"Excuse me, please don't touch the art."
I figure that's my cue to leave.
Back at the San Francisco waterfront a day later, I'm reminded how beautiful this bay is. And how wonderful it's going to be viewing future races from this natural amphitheatre.
"This is such a wonderful area for sailing, because of the breeze. Your Hauraki Gulf can be a little, er, shitty," teases Trouble.
It's true, the wind is no problem at this time of year in San Francisco, but come September, the wind will drop and the sun will warm the pavements. This is when the America's Cup will be fought. I am told by a Kiwi working for Louis Vuitton that, whoever the challenger turns out to be (Team New Zealand Is current favourite), they will have to find a way to make their boat, built for windier conditions and thus heavier, travel as fast as the Oracle boat, which will be lighter and built for less wind.
The Kiwis, however, can be happy that the international jury has upheld their protest over last-minute rule changes and they can sail their boat as is.
Trouble has the last word.
"Zee best thing in life would be for the Kiwis to take the Cup out of here."
There's a man who knows what he is talking about.
- VIVA