Address:
262 Ponsonby Rd, Ponsonby
Phone:
(09) 360 1113
Rating out of 10:
Food: 8, Service: 9, Value: 8, Ambience: 8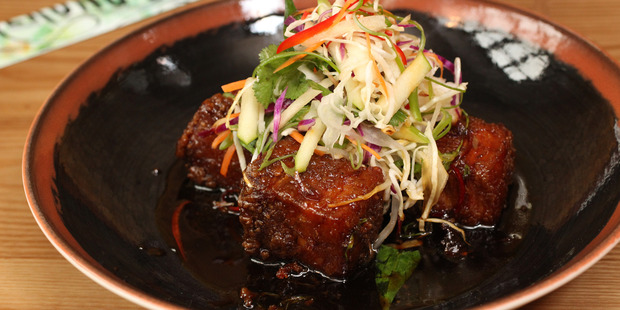 A couple of friends had contacted me about Mekong Baby, which, at time of writing, was Ponsonby Rd's newest restaurant. And, said Trish, "it's the best example of Asian fusion food on the strip yet. And we could hear ourselves talk. And the interior design is better than Blue Breeze."
So off we went to the corner at 262 Ponsonby Rd, once famous as the home of GPK, to see what she was talking about.
Certainly Mekong Baby starts well. You walk into an exotic, dimly lit bar full of mystery and delight and then, presto, you're into the dining room - all white tablecloths, chic wooden chairs and swooping overhead lights. It wasn't full either, which is hardly surprising since they had opened only a week earlier.
The first thing we noticed was that the music was funky and pleasant - and turned down to a point where we could hear each other speak. Then along came our waiter and we remembered what excellent service is all about. She brought me a sample of honey-scented, non-astringent Millton Mistelle muscat, plus a bottle of Bladen gewurztraminer for the others, then ran through the menu, highlighting her favourite dishes.
One choice at Mekong Baby is to hand the whole selection process over to the chef. You just say "let's eat" and wait to be surprised (except by the bill, which will come in at a reasonable $60 a head). But since we'd been to Vietnam, we decided to do it our way.
As in most modern fusion restaurants, things arrive as fast as the kitchen can make them, and in this case our first Small Beginnings, or appetiser, arrived first. The betel leaves, crab, kaffir lime and chilli were $6 each and worth every cent. Each arrived on its own triangular betel leaf, heaped with delicate crab in a spicy dressing and topped off with fat, salty salmon roe. A near-perfect beginning.
Next came the king prawns with fish sauce and black pepper, which were almost as tasty, accompanied by wok-fried squid with nuoc cham, Vietnamese mint, and lamb ribs with cumin and coriander, also recommended by our waiter. The ribs were delicious, crisp-fried with a crunchy coating.
Last was the crunchy omelette with oysters, spring onions, sprouts and sriracha, a hot Thai sauce, which worked from inside out: that is, the crunch came from the sprouts. But the most unusual part by far was the chopped oysters hidden inside. As Dia said, "A waste of good Bluff oysters, really."
By then Mekong Baby was three-quarters full and still we could have a decent conversation.
Dia suggested we go for salads rather than four serious main dishes - a good call. The smashed green papaya salad with its lime, roasted red chilli, peanuts and prawn floss was a brilliant and authentic mix as was the prawn, sticky pork and mango concoction.
The roti, more like pastry than bread, was piping hot and delicious. For me, who'd eaten quite enough, it was the star of the show. Malcolm and Brian, however, weren't done yet and tucked into the pork belly, red beef curry with eggplant and betel leaves, and even helped Dia with her rather "boring" green fish curry with okra.
The Happy Endings were just that. All three - coconut sago, palm sugar icecream and lime and papaya meringue pie were great, but for me the sago and icecream, with their crunchy surprises, were standouts.
So, is Mekong Baby better than The Blue Breeze at the other end of Ponsonby Rd? It probably is, if you want to have a decent conversation. Certainly the food is excellent, too. Both take liberties with Vietnamese and other Asian dishes, but that doesn't matter.
As I remembered on the way home, the French influence on Vietnamese cooking is legendary, and certainly could be responsible for Mekong's slow-cooked red beef curry.
As for decor, I'd suggest Mekong turns down the lights and gives diners more of the exotic intimacy of its bar and Opium Den next door. It's so much sexier - and better for the complexion. After all, the back of their business card reads: "I noticed you at Mekong Baby and I think you're really cute."


Our meal: $357 for five entrees, three main courses, two salads, sides of roti and brown rice, plus three desserts and two bottles and one glass of wine.
Wine list: A carefully thought-out list, complemented by a wide selection of cocktails and Asian beers.
Verdict: Dominique Parat, of GPK repute, has moved into Auckland's crowded Asian fusion/tapas dining scene with an exciting menu and a London-trained restaurant manager that puts a cracker under the Herne Bay end of Ponsonby Rd.