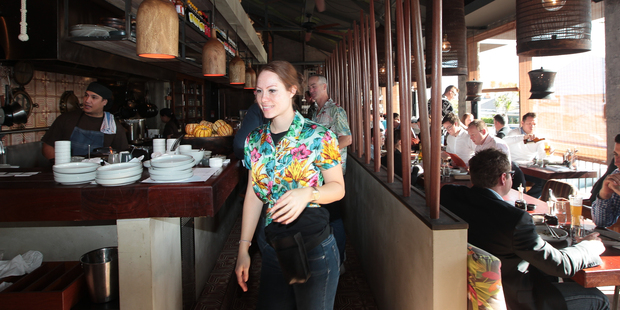 This place was just about to open when I headed overseas for most of June and I returned to find that it's the hottest table in town. But if I may employ a dining metaphor, they make a meal of making a booking.
Over three days of telephone tag, I left messages saying the time and date I wanted; the maitre d' called back and left messages saying that time was available and asking me to call back and confirm; I did so, but struck other people who said that only the maitre d' could possibly discuss the matter; then someone else rang to confirm; then the maitre d' rang the next day responding to a two-day old message from his "call centre". (Call centre? What is this? The UN?) Finally a rather distracted woman called Milly rang up and asked, "Has anybody been in touch with you yet?"
Thus our trio arrived in a state of mild apprehension, hoping that the kitchen functioned somewhat more smoothly than its reservation system. It does.
On the Brown St corner of the Ponsonby Central development, this is a new venture of restaurateur Mark Wallbank and chef Che Barrington, who transformed Rocco into MooChowChow a couple of years ago. That playfully named joint took its inspiration - via Longrain in Sydney where Barrington had done time - from the market food stalls of Thailand and Singapore, and turned out meals that made you think of food courts in Heaven.
Here the influences are more explicitly Chinese: woks are big in the kitchen and the menu is delicately dusted with Chinese words. There are the Cantonese-style pork buns, the xian shui jiao (puffy fried dumplings) and siu mai that yum cha fans will recognise, but what is more prominently promised is the more fiery Szechuan cooking.
Eight dishes are marked as hot, although those we tried, including braised pork shoulder billed as "hot and numbing" and described by a waitress as having "a kick to it", posed no great challenge to my chilli-sensitive palate. We have frequent recourse to a dipping dish of chilli oil and sharp vinegar.
If the food has a Chinese flavour, there's a nice Pacific vibe to the fitout and staff uniforms, sunny enough to cheer up a winter evening. The tightly crammed space abounds in nice touches - a neon tiki, a wall of coconut shells, a dividing line of poles that visually suggest market awnings suspended above them.
Above the kitchen, wine storage is accessed by a ladder, and some of that ceiling space is filled with beer crates that have been arranged with studied casualness to suggest they have been tossed up.
The food, which went well with the beer by the $20 jug, was mostly excellent in execution, although I felt it lacked the wow factor that distinguished MooChoChow in originality. The siu mai, for example, were streets ahead of any I've tasted in even the best yum cha around town, but cried out for a signature flourish.
A salad of cabbage pickled with black pepper, shallots and coriander was deliciously cool, setting off some fat tuatua, wok-fried in their shells with cubes of black sausage, and a dish of smoked fish with a wafting hint of ginger, which made up our list of small plates.
Of the main courses, the mar po tofu (that pork shoulder, with soft cubes of tofu) was a standout, and we exulted in wickedly juicy lamb ribs (these may be too fatty for some tastes) flavoured with cumin and cinnamon-like cassia.
Steamed fish with fermented black beans and ginger was, for my money, a bit overcooked, and using the term "native weeds" to describe a dish of wok-fried water spinach seemed to claim a connection to the wild-food movement that was a bit of a stretch.
Finally, charging a dollar a head for gluggy rice seemed pretty mean, particularly when the bowl was delivered to the table only after we had virtually finished eating all the other dishes.
The only dessert we tried redeemed these faults: a custard tart that banished all memories of those disasters on the yum cha trolley. The excellent pastry was filled with an eggy, creamy custard that recalled the Portuguese pastel de nata and it left a very sweet taste in the mouth. Try to get a table, no matter how many phone calls it takes.


Verdict: Just short of sensational