Address:
The Foundation Building, 8 George St, Parnell
Phone:
(09) 373 6359
Rating out of 10:
Food: 7, Service: 8, Value: 7, Ambience: 8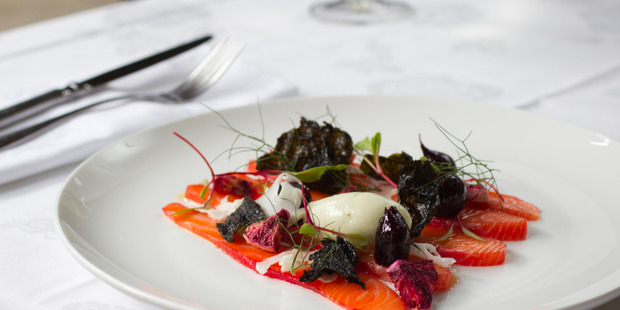 Not often are you tempted to order only cold courses throughout a restaurant dinner. But such has been this summer that the procession of dishes delivered by Tribeca at the lower end of the temperature range seemed just right. Of course, Auckland being Auckland, by the time this review hits print it will be probably be more appropriate to have Scotch broth, steak and kidney pie followed by jam roly-poly.
But on our hot evening visit, even the chef was on the same song sheet and the amuse bouche was an elegant little gazpacho of tomato, melon and basil. Elegance and comfort are the key characteristics of this establishment, where the service soothes and even the parking is trouble-free, a consideration which casts a small shadow of irritation over some other venues.
The menu is small but interesting without being outlandish, and most dishes are offered as entrees or mains. We both started with simple enough options - a beetroot salad of chioggia beets, walnuts and goat's cheese, with what appeared to be cherries substituted for the apple mentioned on the menu and a gravlax, again with beets and with the wasabi delivered as a sorbet.
Both were prettily presented and enjoyable without producing a real thrill.
My main course was described as "lasagna" with the inverted commas presumably intended to alert the customer not to expect what is served up at the neighbourhood Mario's. It turned out to be prawn, finely sliced and raw in sashimi style, and with avocado nestled under a layer of pasta and a sauce of real subtlety of flavour. It was probably the standout dish of the evening.
I had panicked slightly on realising I was going cold turkey, so to speak, and ordered a side of fries just in case, but I'm not sure why I bothered. They were hot but otherwise disappointing, something I've encountered before in upmarket restaurants, being under-done for my taste and slightly soggy.
Our other main course of lamb was good, if not overwhelming, with a contrast in the presentation and textures of the meat and a traditional but welcome accompaniment of mint and peas with smoked eggplant and yoghurt.
If the prawn dish was the standout, both our desserts ran close. With the strawberry season petering out, we were tempted by the dish described as "lots of strawberries", which also boasted a rhubarb and Moet sherbet. But the lemon verbena sorbet with berries and grapes we chose instead was delightful, as was the buffalo yoghurt sorbet, which came with blueberries and lemon curd.
As it should, the food matched the season and the service and style matched our mood. When I had a question about a wine choice I received a knowledgeable and, above all, enthusiastic response. The wine list is lengthy and catholic, with unlisted guest wines and a very decent selection by the glass.
If you want an evening where the atmosphere seems designed to attract grown-ups and intimate diners, and where the food reflects a certain concept of the good life, Tribeca has to figure in the reckoning.

Our meal: $243 for two first courses, two mains, two desserts and five glasses of wine.
Our wine: After an excellent Greywacke 2011 Marlborough sauvignon blanc we shifted to an outstanding Martinborough Ma Maison pinot noir and a fine Foxes Island Marlborough riesling, finishing with the ever-reliable Pigeade Beaume de Venise.
Verdict: A Tribeca customer is unlikely to emerge feeling anything other than relaxed and pampered.