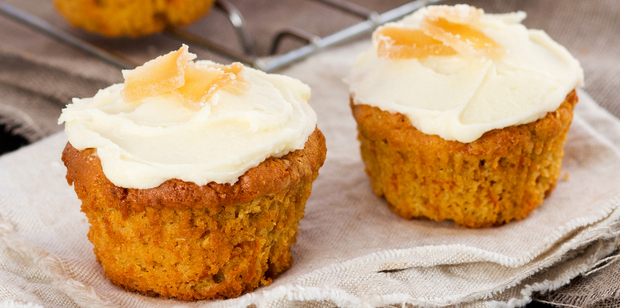 Makes 12
2 eggs
120g brown sugar
200g pumpkin, peeled and grated
Finely grated zest of one lemon, plus extra for garnishing
100g ground almonds
100g plain flour
2 tsp baking powder
3 tsp fresh ginger, grated
Icing
125g icing sugar, sifted
3 tsp lemon juice
1 tsp butter, softened, optional
water
Finely grated zest of one lemon
Crystallised ginger
1 Preheat oven to 170C. Grease a 12-hole muffin tray or line with paper cases.
2 Beat the eggs and sugar together until pale then fold in the pumpkin and lemon zest then and stir until combined.
3 Fold in the almonds, baking powder and ginger then give the mixture a final mix. Spoon into the tins, leaving half a centimetre at the top to allow for rising. Bake for approximately 25 minutes or until the tops spring back when they are gently pressed.
4 To make the icing; whisk the icing sugar with the lemon juice, butter if using and enough water to achieve a soft, spreadable icing. Generously ice the cooled cakes and top them with a generous amount of lemon zest and a few slivers of crystallised ginger.