Address: 111 Clyde Rd, Browns Bay
Ph: (09) 479 6665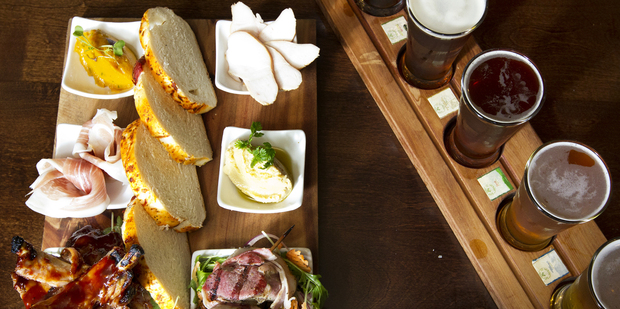 On a cold and blustery Tuesday evening, the Deep Creek Brewing Company (or Deep Creek Brews and Eats, as the sign reads) was doing a brisk trade. Clearly, in the two or so years since a couple of local boys set out their stall, the word has got around.
While we were waiting for Carl and 8-year-old Summer to arrive, we perched at a table near the beer conditioning tanks and took a look around. The bar and restaurant are made from rough-hewn timber, in the style of the shearing shed school of interior design, with soft old sofas and chairs, leaners and, down the side, dining tables. The garden at the back overlooks the sea, apparently, although we were not in a position to enjoy the view.
Bill began with a Dusty Gringo, a brown ale (almost black) from the list of six house beers. The others include red, pale and amber ales and a vanilla and chocolate porter, most of which were being imbibed with enthusiasm by the groups of (predominantly male) locals.
We ordered our meals from the shortish menu, and waited. And waited. The service was disappointingly slow for the few diners that night, a problem that could have been remedied with a few more staff.
The ones that were there flew around, serving at both bar and table, and remaining cheerful and friendly.
The cured meat "paddle" comprised pancetta, barbecued ribs, lamb skewers, cheese, hummus and sundry accompaniments, and was substantial and tasty. This seemed a recurring theme with the meals, to the point where I decided to forego a main in favour of two starters - or first brews, as they are titled.
More beers arrived after gentle reminders, this time a Dusty Gringo for Carl and a 309 pale ale for Bill, and we were on to the mains.
My calamari with Maldon salt and raspberry vinegar was commendably tender and delicious. Summer made appreciative noises over her barbecued ribs, but being the well-brought-up child she is, the noises weren't too loud.
Carl was well pleased with his surf and turf, with the rib-eye steak cooked exactly to his liking, the prawns fresh and the stuffed Portobello mushroom accompaniment creating a very filling whole. Bill was less impressed with his pasta with bacon and cream sauce, finding it a little bland. My second starter of bacon-wrapped lamb backstrap with a very large salad was again, substantial and tasty.
We were fading fast by this stage, but a sticky date pudding to share filled up any last empty corners, and we staggered off into the night.
The Deep Creek Brewing Company has clearly made its mark on the North Shore community.
If you're a beer aficionado, or just enjoy a pub atmosphere with good food, it's worth a visit.
Rating out of 10
Food: 7
Service: 6
Value: 8
Ambience: 8

Our meal: $208.50 for a shared platter, two entrees, two mains, one dessert, one child's meal, five beers and three glasses of wine.
Wine list: Well thought-out, with a good selection by the glass. The Maker Fleur de Lis sauvignon blanc was not as dry as some, and was a good match for the squid entree. And then, of course, there's the beer.
Verdict: A warm and friendly local brewbar, with good food and excellent beer. The slow service let it down. One or two more staff would make all the difference.