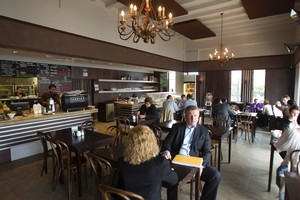 We came here because we'd heard the cafe that used to be Dodici on our previous visit had reincarnated. It is in the former North Shore Courthouse, hence the name.
Parking was no problem on the roadside and the pay and display rates in Takapuna were quite reasonable.
We walked in and immediately thought how bright and welcoming it was.
The most unusual thing on the menu was on the lunch side of the menu, with pizzas and burgers entitled Al Capone, Ned Kelly, Jail Bird, Objection and Sentenced, to name a few.
We ordered the very tasty Verdict breakfast of sauteed red onions and capsicums on potatoes with oregano, hash browns and grilled cheese topped with paprika, sour cream and bacon ($16) and the eggs benedict ($15). The poached eggs and bacon came on toasted english muffins with hollandaise sauce and were judged top-notch.
The servings were generous and house made.
The service was friendly and efficient.
The coffee was Eden brand, a fine brew.
We recommend if you come here bring an appetite and leave the guilty conscience at home.
Overall we thought this was a cafe full of personality - that's our verdict, your honour.