Find more restaurant reviews with our Google map
Address: 61 Davis Cres, Newmarket
Phone: (09) 523 1057
Cuisine: Spanish
Rating: 7/10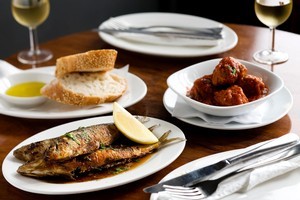 I sat in the car outside and I wondered if I'd made a mistake. Having just returned from an eating adventure through Basque country, in the north of Spain, I had it in my mind to try to recapture some of the food and travel magic that I'd experienced there. For example, in the town of San Sebastian, laneways of hole-in-the-wall eateries line up alongside each other, serving up some of the most incredible pintxos (tapas) I've ever eaten. A typical evening might see you traipse hungrily and happily from one bar to another, sampling whatever is their speciality - creamy croqueta, juicy skewered prawns, fall-apart veal cheeks, refreshing gazpacho. I was in heaven in that town and here I was, back in NZ and hoping to re-live it at Basque Kitchen & Bar in Newmarket. Walking in, I began to doubt my decision. Where was the counter, covered in colourful, mouth-watering pintxos? Why was the floor empty of discarded serviettes, balled up and tossed aside with reckless, hunger-satisfied abandon? And why was everyone sitting down at tables instead of standing at the bar or perching on high stools? I began to question whether I was going to be transported back to Basque country, or indeed anywhere in Spain, by this dining experience.
But, thankfully, I was wrong. As my dining companion and I began looking through the menu, my level of optimism steadily rose. Though not typical of the Basque region, the dishes appeared Spanish enough to get us excited - prawns in cider, chorizo (of course), salted cod cakes, grilled sardines and more. Because our city does not have a concentration of tapas bars in any one place, making it possible to move from one to another, owners here tend to try to cover the spectrum of dishes in one menu and this can get confusing if there are too many to choose from. Basque Kitchen has kept its menu succinct and our waitress was so enthusiastic when she ran us through the options that we had no trouble rattling off a selection of dishes until she cried "enough".
Ordering drinks was not so easy. I was set on starting with a glass of txacoli - a marvellous dry white wine that has a touch of spritz to it that I enjoyed so much of on my travels. Not available. So then I tried to order sangria (to remind me of my tourist roots) but I had to fight for it as our wine-advising waitress seemed determined that I have a glass of red wine instead. Turns out, I should have listened to her, the sangria was mediocre. Never mind, the food began to arrive and that proved a welcome distraction.
Stuffed olives were crumbed, deep fried, piping hot and oozing Manchego cheese. Sharp and sure of themselves, they were divine. Baby calamari had had a flash in the pan and were served up, tender and tasty, with chopped broad beans and plenty of mint, making for a lively dish. A generous plate of fried eggplant, cut into thick batons, was another hit with us both. The sardines were marvellous too - plump and rich and served with a fresh salsa verde that cut through the oily flesh beautifully. Meatballs can be very standard but these ones were exceptional. "Creamy" was how my dining friend described them and I had to agree - well-minced, they were dense and moist but not heavy. The sauce in the dish lacked the promised spice but it was full of the pleasurable sweet-tart flavour of ripe, slow-cooked tomatoes. Five savoury dishes were enough for us so we turned our attention to desserts.
Churros, those infinitely irresistible Spanish doughnuts that, incidentally, can be quite difficult to find in Spain anywhere other than tourist spots, were on the menu so we had to try them. Basque Kitchen does a great rendition, liberally showered in sugar and accompanied by a dish of warm, delightfully bitter, liquid chocolate,. We also shared an orange-scented creme Catalan, which was silky and smooth.
If you're seeking a trip down memory lane to recreate your favourite little Basque-style pintxos bar you might get the pip with this namesake. On the other hand, if your focus is more on regional Spanish cuisine, you'll likely as not adore Basque Kitchen & Bar for its approachable ever-changing menu and convivial atmosphere. There is something so inherently social and relaxed about this style of dining where your meal is made up of plate after plate of tasty morsels, and you fall in love afresh with each new dish as it arrives. Magic.
From the menu: Stuffed olives $6, Fried eggplant $8.50, Baby calamari $12.50, Grilled sardines $12.50, Churros $11, Creme catalan $11
Drinks: Fully licensed; sangria and a good selection of sherry