Herald Rating: 4/5
Address: 5 Milford Rd, Milford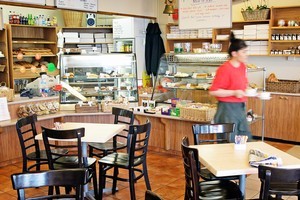 We came here because we'd heard good things of this bakery, tucked off the main street of Milford.
Parking was no problem in the mall's car park across the road.
We walked in and immediately thought the smell of fresh baking and coffee was divine.
The most unusual thing on the menu was the croissant stack with scrambled eggs, bacon, tomato and avocado ($15.50).
We ordered the croissant stack, which was very good and just the right size (allowing for a berliner doughnut from the ever-so-tempting counter cabinet) and a vol au vent Lucerne â€" Swiss sausage and creamy mushroom sauce in a large pastry case ($14.50). This was tasty, although the sausage a bit mild for our palates.
The service was friendly and efficient.
The coffee was a fine brew.
We recommend if you come here make sure you are hungry â€" the baking is too good to resist.
Overall we thought we will definitely be back for some of those pastries or perhaps a Swiss-style iced coffee as the summer cranks up.