Find more restaurant reviews with our Google map
Herald on Sunday Rating: 3/5
Address: 19 Drake St, Freemans Bay
Phone: (09) 354 4030
Website: atico.co.nz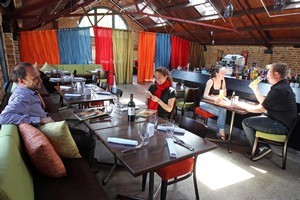 Question: How hard is it to set up a basic website? Answer: It must be easy because I once did it. With the help of a 12-year-old, I nailed it in half a day and anyone competent would have nailed it in half an hour.
So it remains a mystery to me why so many restaurants open with an incomplete website. Atico Cocina is the latest of these. The address above led, at the time of writing, to a page under construction. You couldn't even look at the bloody menu - although it was available on the third-party site menumania.co.nz and is now up. Since it would take less time to get something informative up on the site than to lay the tables, it seems odd. Just saying.
Atico Cocina, the new occupant of the Victoria Park premises formerly occupied by Sake Bar Rikka, is the latest addition to the roll-call of Latin American eateries in the city. The quirky Mexican Specialties in Ellerslie used to be the only escape from odious taco-and-burrito joints. Now, the riotously gaudy Besos Latinos in the Elliott Stables, the creditable Buenos Aires parrillada (barbecue) in Jervois Rd and this newcomer add to the choice for people interested in food from Central and South America.
In gastronomic terms, that may be a mixed blessing: Latino food is not the world's finest - indeed, at its worst, it comprises bland and featureless concoctions of meat, corn and potato that rely on piquant salsas to make them palatable. But the use of the quality ingredients available here in traditional recipes from the sub-continent promises excellent eating.
At Atico Cocina (the name, Spanish for Attic Kitchen, evokes a cosy nook, which is not really what the open-plan, wooden-floored space delivers) excellent eating wasn't quite what we got, but they had been open barely a week and I sense that they are capable of better than they were delivering at that stage.
The menu focuses on food from the northern end of South America, with an emphasis on the Caribbean. The empanadas - those delicious pastry triangles - are billed as Colombian-style, meaning the pastry is lighter than the Andean version, and there are beef, chicken and meat-free versions; jerk chicken, prawns in a coconut batter with chipotle (chilli) sauce and deep-fried plantain all derive from a coastal, tropical cuisine, rather than the heavy, corn-and-pork based food from the highlands.
I was instantly drawn to the ceviche (marinated raw fish), of which they offered three choices, all billed as Caribbean. This may explain why neither of the two we ordered had any of the characteristic chilli-and-onion bite of the Peruvian version I first met. Of the tuna-and-mango one, that may be expected but it seems to me it would be better to ratchet up the "ole" factor a bit.
We also shared brochettes of jerk chicken, which were perfectly nice with a honey mustard, but again tame as hell. The skin of jerk chicken, Jamaican in origin, is meant to be eyewateringly hot, but Atico's version would not have raised the eyebrows of the vicar's wife at the church supper. Some bruschetta with tender roasted peppers were quite acceptable.
The only reason I can't get too cross about the dryness of the chargrilled pork chop ordered by my companion is that I am not sure it is possible to chargrill a pork chop without making it as dry as wallboard. I never have, which is why I always slow-roast pork. I chose what they called their signature dish - a fillet of beef. Its name included the Spanish word for "breaded", but no bread or breadcrumbs were in evidence: it was a standard piece of quality fillet with a potato gratin and a brandy sauce. I could not fault it, but you might it find on a menu in Houston, Hull, Hamburg or Hamilton.
In short, I reckon this place will be better when it lets its hair down a bit. The field it enters is not crowded, but it gives a bland impression of food that can be genuinely exciting.
Need to know
Value: $$$
$ = $20-$40; $$ = 40-60; $$$ = $60+.
(Price guide reflects three courses for one person without drinks.)
Also try
The grandly styled Victoria Park Quarter has plenty of dining. I've had good experiences at Sale St, Clooney and La Zeppa and heard nothing to suggest they've gone downhill.