Find more restaurant reviews with our Google map
Address: Hilton Princes Wharf, 147 Quay Street
Phone: (09) 978 2020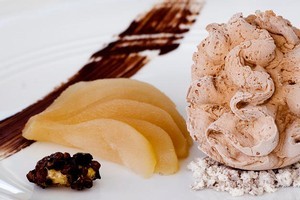 The big Hollywood production number on our visit to Fish, the Hilton's rebranded restaurant, was nitro chocolate mousse, with three shows at our and adjoining tables within a few minutes.
Two performers appear with the equipment. A ladle is super-cooled with liquid nitrogen, chocolate mousse is swirled in and then bathed in the liquid after being injected with either mango or caramel sauce and the result is a crispskinned, soft-centred dessert, served with crisped almond and a fan of pear.
And my first course of what sounded to be a simple soup received the treatment too. Up came a bowl with a couple of plump shellfish bathed in a foam blanket on diced vegetable, followed by a glass teapot full of hot broth, which was then decanted into the bowl. Shades of Heston Blumenthal and Ferran Adria.
The food here, in its previous incarnation of White, was always decent but this is a very different act under Shane Yardley of Simon Gault's Nourish group.
The restaurant has been made over, with the former stark decor softened with darker tones and more subdivision. A long fire along the sheltered deck was warm enough on a chilly evening for us to take an outside table and benefit from the great views. We thought it would be particularly attractive for lunch, when they offer a less structured tasting table approach, which sounded appealing.
The service has gone up a notch, too, with the slightly mechanical big hotel attitude being replaced by staff who really engage with the customer without being intrusive. The atmosphere was certainly livelier than on our last visit, although it's hard to know what effect the World Cup had on the mood and the crowd.
But stripped of the frills, is the food good? I started with the above-mentioned hot oyster soup, which was thick and creamy, with an exuberant flavour. Hard to fault, as was the seared tuna with pretty trimmings including a lovely, dark soy jelly.
The main choices were difficult. We were recently lamenting the declining popularity of venison on menus and the South Island venison loin was given a bit of a hard sell. I was also strongly tempted by the Yardley twist on surf and turf featuring eye fillet and cray decked out with an intriguing sounding chorizo croquette. But the price brought something of a sharp intake of breath. It was also pointed out by my companion that to go past the fish at a restaurant with this name would be odd.
So the dish called Shane's fish stew was my choice and I was glad I had made it. This was a good grab bag of ingredients with cockles, mussels, scallops, prawns, crab and tuna delivered in a light spicy tomato based sauce with bread topped with a smoked rouille. I was slightly surprised by the absence of white fish and the high proportion of tuna but this was a grand variant on the bouillabaisse theme.
Our other main was described as a crab and prawn-crusted hapuka. The fish was simply served, if with foam, on a bed of leeks and porcini with roasted burdock and a garlic milk, all of which enhanced the fish while departing from the conventional idea of a crusted dish. It left me wondering how the listed "breaded snapper" might have differed from your average takeaway.
My fish stew was as full of substance as of flavour and I passed on dessert. But I did sample a little of the manchego sheep's milk cheese which I enjoyed. Then we did go for the nitro flamboyance and were entertained by the showbiz, even if we favour a stronger chocolate flavour. That's all a matter of taste but regardless of your preferences you would be hard to please if you did not enjoy Fish.
Rating out of 10
Food: 8
Service: 10
Value: 7
Ambience: 7
Our meal: $214.00 for two first courses, two mains, two desserts and four glasses of wine.
Our wine: Agood list although surprisingly they had run out of sauvignon blanc. The alternative, The NedMarlborough, was pleasing, as was the NgaWakaHome Block Martinborough chardonnay.
Verdict: Heaps of style without being precious. Not cheap but a good act that deserves to do well.