Find more restaurant reviews with our Google map
Address: 40 Remuera Road
Phone: (09) 522 1364
Web: jaxwinebar.co.nz
Cuisine: Tapas
Rating: 5.5/10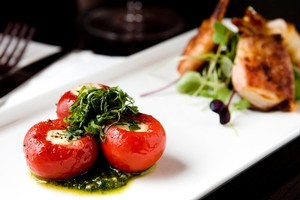 "Eat when you drink, drink when you eat" has long been the philosophy in Spain, where cosy tapas bars can be found throughout the country, serving bite-sized snacks to accompany drinks.
Originally thought to have been invented as a covering to keep the insects out of your glass, tapas in Spain are now used more often to open the palate before a meal. Here in this country, we have a tendency to use the "tapas" term to loosely refer to any small shared plate of food and often, in my case at least, a selection of them will suffice as a casual evening meal.
So it was with this intention that I met a friend at Jax Wine Bar in Newmarket, which bills itself as a boutique tapas/wine bar/photographic gallery. Interesting.
My initial impression was that the location is not what I'd call a natural place for a cosy bar - at the start of the busy Newmarket end of Remuera Rd - but position and exterior to some extent belie the intimate bar and dining area inside.
A glittering chandelier and soft lighting make for a welcoming space, though the seating layout is awkward. Most of the bar stool/two-person table-seating has diners facing a wall. As a result we chose to sit at one of the few lower tables and I noticed that other diners who came in after us did the same. Sitting at a bar is one thing, sitting with your nose against a wall is another.
In Spain, the locals will go from one tapas bar to another enjoying the house specialities but, without that luxury here, the menu at Jax appears to be trying to cover everyone's tastes by spanning Mediterranean, Asian and some local flavours, with 15 tempting-sounding tapas, plus bread, antipasto and four salads.
We began with a dish of slow-roasted olives with feta and rosemary, and another of stuffed baby bell peppers. The heat brought out the sweetness of the peppers and softened the feta filling beautifully.
They were so satisfying that it prompted me to ask the waitress if it was a chef's speciality, to which she replied "No, we buy them in" without adding anything more.
It always amazes me when staff seem so determined not to grasp opportunities to talk themselves up. Often they do the opposite, either through lack of training or merely by being unaware.
I'm sure the owner of Jax would have preferred her to tell us that they have their own supplier/importer who they use due to the exceptional quality of the products they are able to source, as opposed to the somewhat deflating, albeit honest, response she chose to give us. It's called spin, and as a diner I wouldn't have minded a bit.
Our eating continued with mixed success. A dish of chorizo and mushroom in cider was disappointing with "field mushrooms" so tiny that I suspect they hailed from a can.
On the other hand, the prawns wrapped in pancetta were so good we ordered a second plate. They were plump, sweet and good value. The seared scallops with crisp prosciutto were unremarkable, but a plate of miso beef - a deviation from the Mediterranean flavours - was seared perfectly to rare, coated in black and white sesame seeds and smeared in miso paste. This dish gave our tastebuds a lift.
To finish we turned our attention to the sweeter dishes; marinated red wine figs with gorgonzola, honeycomb and truffle oil, which was heavenly, an affogato, and a poached pear and port reduction. We found it strange that the desserts cost twice as much as the tapas, but then again they were generous servings.
Some thought has gone into the wine list with a strong list of local wines that are spread across the spectrum. There's no sangria but there is a decent selection of craft beers and single malt whisky.
Jax Wine Bar could do the trick if you need to kill some time before heading to the train station or if you need some respite from a shopping spree, but to my mind, they need to lift their game pronto if they want to make an impression as a tapas bar of note in this city.
From the menu: Olives and feta $7, Chorizo and mushroom $7, Miso beef $9.50, Bacon-wrapped prawns $8, Sweet bell peppers $7, Seared scallops $9.50, Marinated gorgonzola and honeycomb $7, Affogato $16.50, Poached pears $15.
Drinks: Wines, craft beer, single malt whisky.