Find more restaurant reviews with our Google map
Herald on Sunday Rating: 4/5
Address: 50 Customs Street East, Britomart
Phone: (09) 368 5315
Website: districtdining.co.nz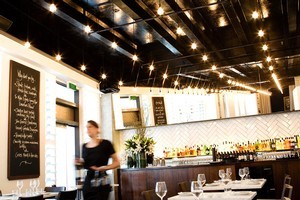 Is it old-fashioned of me to say that one of the first things a restaurant needs to do in order to attract customers is to look welcoming? You shouldn't have to stand back and inspect the place from the opposite side of the road in order to deduce where the likely entrance is.
I'll mark District Dining down one point for that. Its handsome Customs St frontage is white frosted glass and fibreglass louvres but there are several doors - at least two with the name of the establishment next to them - and I had to try all three before I found one that opens.
Now, to be fair - as the Mad Butcher says - I am one of those people who tries all four options with double-glass doors in a public building (push and pull the locked one; then push the unlocked one before discovering you have to pull it). I have even been known to attempt to exit a revolving door before it had revolved as far as the exit, which was both undignified and painful.
But it seems to me that it is not unreasonable to ask that restaurants make it easy even for the perceptually challenged like me.
The next thing that a restaurant needs to do in order to be attractive to customers is to have staff who sound happy to hear from you. The bloke who took my booking at District Dining was so abrupt that I think he has a future as an immigration officer at a US airport. I spotted him the moment I arrived, too, from his cocky walk and his snooty expression; every time he walked past our table he looked at it as if it was a small pile of something indeterminate on the footpath.
My mate Tom says you should always say something nice before being nasty, but I approach the job as I used to approach my mother's cooking: eat the bloody awful bubble and squeak first and save that lovely lamb cutlet to the end. So from here on in, I will be relentlessly positive*.
District Dining is the Auckland incarnation of a popular place on the city side of Surry Hills in inner Sydney. The man behind it is New Zealand-born Warren Turnbull, whose upscale Assiette in Albion St was his first solo Sydney venture.
The Surry Hills operation, to judge by online pictures, is funkier than the Auckland one, whose sleek interior design makes full use of the black-painted concrete warehouse ceiling from which little 12-volt globes hang like stars. A dark-wood floor, marble tables and black chairs complete the picture.
I'd brought my kids along, to ensure the table had at least a bit of cool, and we inspected the menu which runs from nibbles ($4-$12) through small plates (around $20) to larger dishes (around $30). This allows drinkers to graze, and diners to get a three-course experience, and we decided to do a bit of both.
The (slightly pushy**) waiter suggested the crispy pig's ears with Szechuan salt at the same time as I spotted them and, ignoring my daughter's misgivings, I ordered a bowl: she said they were delicious but she looked sad until I explained that eating animals nose-to-tail was almost as green as not eating them at all. That cheered her up.
It was the first taste of a succession of dishes that proved most impressive: a fist-sized clump of tangy steak tartare with shoestring fries; a quite sensational dish of warm ox tongue paired with pickled turnips; a beef chimichanga (a deep-fried burrito which is not fatty at all) inventively matched with curried avocado; prawn toast, a deep-fried toastie with a minced prawn batter, which need to be tried to be believed really; a generous piece of lamb rump, redolent of cumin. It was all smart and new and a performance hard to fault, even for a grump like me.
In a dining precinct full of good food, this is an auspicious arrival. If they can just shake the attitude, they'll be perfect.
* Well, almost.
**Sorry.
Need to know
Value: $$$; $$
$ = $20-$40; $$ = 40-60; $$$ = $60+.
(Price guide reflects three courses for one person without drinks.)
Also try
Opinions may differ as to Britomart's success as a public space but there's plenty of good eating: Google Cafe, Hanoi, Tyler St Garage and Ebisu for starters.