Herald Rating: 4/5
Address: 29 Church St, Devonport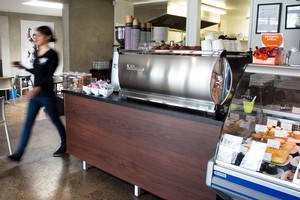 We came here because it was time for a catch-up and we'd heard Five Loaves was good.
Parking was no problem on the quaint, narrow street.
We walked in and immediately thought the cafe looked tidy, with a few scattered artworks on the walls and a choice of sitting out in the sun or in one of the two rooms. We chose the room to the side, the outdoor tables being taken.
The most unusual thing on the menu was actually the spelling of several items, but the food was basically staple fare.
We ordered from the counter, a three-cheese tart ($6) which was tasty. And from the menu: huevos rancheros - black beans and bacon with guacamole on a tortilla with jalapeno scrambled eggs ($17.50), and a grilled chicken sandwich with preserved lemon, roasted garlic cumin and yoghurt and mint sauce ($17.50). Both absolutely delicious and just the right size.
The service was friendly and well conducted.
The coffee was Allpress and just right.
We recommend if you come here just sit back and relax in the pleasant setting before heading off to explore Devonport's boutiques and galleries.
Overall we thought Five Loaves is the perfect little neighbourhood cafe, tucked away in the residential area away from the main thoroughfares.