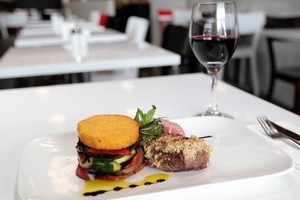 It's not often you see Nuffield St almost deserted on a weekend evening, but one imagines that the excesses of the night before, when Ireland comprehensively beat Australia, had worn down both patrons and hosts alike. So it was a little daunting to enter the Nuffield St Cafe to find we were the sole diners.
The NSC was previously called Kuzhina and, before that, Olive. It has been extensively and fetchingly refurbished in white, black and red. And although it's not a large space, care has been taken to place tables a decent distance apart.
The menu is concise, with six starters and only five mains. This apparent brevity is supported by pizzas and pastas, where vegetarians will find solace.
Fortified by a glass of wine and a Pilsner Urquell (one of the first Pilsners ever to be made, reportedly) we set about our starters.
My venison carpaccio was lurking under a mound of rocket, but the search was worthwhile. The venison was tender and see-through thin. Crunch came courtesy of croutons and delicious wee crispy capers. Shavings of parmesan held it all together.
Bill's antipasti came on a plate rather than a platter, which was appropriate for a serving for one. It held all the usual ingredients, but of sufficient quality to make the whole enjoyable, instead of the more usual trip around the supermarket deli counter. The sun-dried tomatoes were especially good, as were the olives and Parma ham.
NSC owner Edison Zajmi, an Albanian Kosovan, is immensely proud of his chefs, Kasiano and Timu, who have 30 years' experience between them, he said. This was not always apparent in the main courses.
My lamb, encrusted with crushed pine nuts, herbs and parmesan, was pink in the middle and while of a decent size, it was overly chewy. An athletic beast, Bill surmised. However, the warm salad of grilled vegetables and a very good crisp polenta cake went some way towards compensation.
Bill was well pleased with his pork belly, a favourite of his, although the mouthful I tasted was a little tough as well. The crackling, however, was all that it should be, the broad bean and pea risotto was excellent, and the red wine jus well-judged.
And there was still room for dessert. Although tempted by the mousse lasagne, more for the name than anything else (although the layers of white chocolate, raspberry and mint interleaved with pancakes sounded intriguing), we settled instead on the banana tarte tatin. Again an unusual offering, but it was delicious, with the caramel pitched just right and the pastry well-cooked.
A glass of Calvados each - just to aid the digestion, you understand - and we were done.
NSC is multifunctional, offering brunch, lunch and a catering service. A visit to this little place is worthwhile.
Rating out of 10
Food: 8
Service: 8
Value: 8
Ambience: 8
Our meal: $174 for two starters, two mains, one dessert, a bottle of wine plus one glass, and one beer.
Wine list: Not long but covers the bases. Good matches are recommended and the wine list specifies wines that are low allergen, vegetarian, organic and so on - a nice touch.
Verdict: The funkiness of the décor underpins the effort that goes into the food. An excellent addition to the Nuffield eating strip.