Herald Rating: 3/5
Address: East 1, 1-17 Jellicoe St, North Wharf, Wynyard Quarter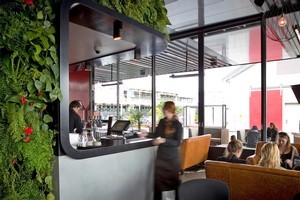 We came here because it was a beautiful Saturday morning and we thought it a good time to check out Auckland's latest playground.
Parking was not an issue for us as we walked, but there are paid carparks.
We walked in and immediately thought why are people balancing big plates of bacon and eggs on their laps? The place was definitely buzzy - all of Wynyard Quarter was brimming with sunshine lovers - but we couldn't help wonder why a venue that calls itself a restaurant had hardly any dining tables.
The most unusual thing on the menu was banana bread with torched banana and cinnamon ricotta ($10).
We ordered the brioche french toast with buffalo yoghurt, pineapple and blackberry ($19). I wished the eggy mixture had soaked into the bread a bit more as it really was just coated. It did make for a nice, light breakfast, however. We also tried the Conservatory morning meal ($22), which had some tasty components - a really meaty sausage and intensely smoky bacon.
The homemade beans were a nice addition although they needed seasoning and the hash brown was on the small side and made with mashed potato, not grated.
The service was not coping with the crowds and we overheard three tables complaining. Our waitress explained that they were a bit swamped and apologised for our wait.
The coffee was pretty good, although we waited an age.
We recommend if you come here you bear in mind that breakfast finishes at noon. And be mindful of where you sit if you wish to be comfortable.
Overall we thought the setting is so pleasant that we'd love to come back, maybe when the machine is a little better oiled.