Herald Rating: 4/5
Address: 170 Hurstmere Rd, Takapuna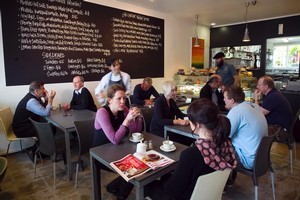 We came here because we felt like something different and the name suggested an exotic menu.
Parking was $3 at the Wilson carpark on Hurstmere Rd.
We walked in and immediately thought the cafe was small and unassuming, with a long queue to the till forming. We were soon directed to the sunny garden courtyard at the back.
The most unusual thing on the menu was the Eastern Eggs with chickpeas, spinach, tomato, chilli yogurt and kasundi ($16).
We ordered the Eastern Eggs, which has to be the tastiest breakfast in Auckland. The two eggs came baked in an earthenware dish and topped with the delicious kasundi (a spicy tomato and ginger chutney), coriander and sesame seeds. The prime beef mince with poached eggs, fried potato and sourdough toast ($16.50) was a satisfying, herby dish. The Latin Larder big breakfast ($24), consisting of fat pork sausages, portobello mushrooms, hash browns, bacon, eggs, turkish bread and the cafe's own baked beans was pricey but worth it, reckoned the hungry Aussie.
The service was attentive and charming. Our Brazilian waiter appeared to really enjoy his job - how refreshing.
The coffee was excellent. A cup of hot, strong Miller's cannot fail.
We recommend if you come here you take home a few sweet treats from the cabinet. The lemon tart was particularly good.
Overall we thought the cafe's name was a bit confusing as my dish appeared to be Indian-inspired but the food was amazing and we'll be back the next time the sun's out.