Find more restaurant reviews with our Google map
Herald on Sunday Rating: 4/5
Address: 19 Tamaki Drive, Okahu Bay
Phone: (09) 521 4400
Website: hammerheads.co.nz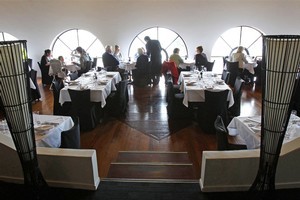 Bet they don't get a lot of Maori customers at Hammerheads. Just on the city side of Kelly Tarlton's, this Auckland landmark occupies the top floor of an extraordinarily handsome example of pre-World War I public works architecture. But the building was originally a sewage pumping station.
This connection between sewerage and food service is unproblematic for Pakeha: the Taj Mahal dunnies in Courtenay Place in Wellington have housed various eateries and are now a Welsh-themed bar; the conveniences in the grandly named Beresford Square are now even more grandly called The Supper Club, although I've seen drunks arguing there at 8am on a Sunday, which is well past suppertime.
But in Maori culture, an association, however indirect, between - well, let's say kai and tutae - is way beyond unacceptable, which is why sitting on a table is a no-no.
Hammerheads re-opened last month following a fire in February. The bar, which was near the seat of the blaze, has been rebuilt, but the main dining room still has its mounted gamefish and handsome, slightly nautical beaten copper joinery around the windows and the hatch between dining room and kitchen.
This has always been an eatery for the better-heeled. You will have your work cut out getting out of here for less than $100 a head, but in return for that you get excellent food and what I think is the best - in the sense of the most purely Auckland - restaurant view in town: the city skyline etched on the horizon, the inner harbour in the foreground. Pleasingly, the background noise is of clinking cutlery and conversation, rather than the staff's favourite hip-hop.
Wanting something to nibble on until the entrees arrived, I asked about the $10 appetisers. I was told that each was a single portion only, so I ordered two. A serving of salt and pepper squid was unremarkable, and a huge bowl of potato croquettes turned out to be the kind of thing you would eat with beer while watching the rugby, and the "chorizo and manchego", which was meant to be in them was, to the extent that it was present, a little too subtle for either of us. It was a dish that had no place on a menu of this sort, really.
Executive chef Elliot Warne's menu has a heavy emphasis on fish and seafood. Vegetarians get a choice at both main and entrée levels and meat-eaters have one entrée and two mains to themselves. Intriguingly, many dishes spurn the traditionally delicate approach in favour of strongly flavoured ingredients that one would normally associate with quite robust, meaty fare: scallops come with roasted peppers; snapper, oven-roasted, uses manchego and confit garlic; the gamefish comes with a black olive jelly. It's an adventurous approach and something of a relief to encounter dishes that avoid the obvious and pair unlikely flavours.
I was attracted to an entrée of monkfish, cooked sous-vide (a classy version of boil-in-bag) and served with a terrine made from smoked ham hock, studded with chunky vegetables, and a green pea panna cotta. It was a happy combination although I thought the monkfish was overcooked. Sous-vide cooking has become terribly fashionable of late, but the results, in my experience, don't match the billing.
My companion enjoyed the seared scallops (the big, marshmallow-shaped Arctic variety), which were thoughtfully done with black quinoa and those roasted peppers, although the slightly bland shellfish made us long for the local season, now open but at the time a couple of weeks away.
Her oven-roasted snapper was excellent, too, served on lemon gnocchi with big caperberries. And my john dory perfectly captured Warne's combination of fine-dining technique and artisanal ingredients. It sat on shellfish, butterbeans and cherry tomatoes in a consomme that was at once earthy and delicate.
We shared an orange creme brulee with nicely gritty shortbread and reflected that Hammerheads had been missing from the landscape for too long. This is stylish food at not-outrageous prices.
Need to know
Value: $$$
$ = $20-$40; $$ = 40-60; $$$ = $60+.
(Price guide reflects three courses for one person without drinks.)
Also try
I reckon the best seafood restaurant in town is Kermadec at the Viaduct, but the French rugby side has that tied up for the next month.
Harbourside in the Ferry Building and Sails at Westhaven are worthy runners-up.