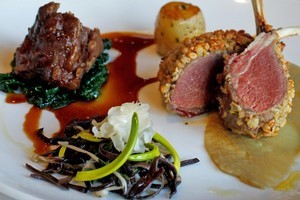 It is a curious thing - of which restaurateurs are doubtless keenly aware - that the specifics of a bad experience last longer in a diner's memory than those of a good one.
The first time I went to One Tree Grill was more than a decade ago when it was a small suburban eatery. I recall it not being close to booked-out on the night, but our group was crammed into a corner near the noisy kitchen.
I don't remember what the food was like - it must have been very good, we went back many times - but that incident has always stuck in my mind.
So on a chilly night when we entered the warm and welcoming OTG and seemed to be led to the same place, I laughed aloud. Fortunately we stopped short at a comfortable table and, of course, I told Megan my story, probably not for the first time.
The much expanded One Tree Grill with its blazing fire opposite the dark bar has increasingly enjoyed a reputation for fine food in a sophisticated ambience, but on this night everything seemed even more special to the point of being sublime.
The small cups of complimentary warm potato and pastrami soup were much appreciated and we chose a couple of wines by the glass. I opted for a superb Bridge Pa Reserve syrah, which I noted was recommended as the match for lamb rack.
Because Megan doesn't eat lamb - and is slightly suspicious of undercooked meat - here was my chance to show her what a rack looked like when prepared to pink perfection.
With a gentle pine nut crust, it was superb and the accompanying braised shoulder was moist and fall-apart. With mushrooms, a side of winter vegetables and that perfect wine match, this was as fine a main as anywhere in the city. All the better for its understatement.
Megan started with the porcini and celeriac soup - which she pronounced delicious, comforting and, that word when no other suffices: "scrumptious". My lightly seared venison medallions on a bed of slightly tart beetroot were as photogenic as they were tasty.
Megan's main of baked hapuku in blackened crust was substantial ("scrumptious" too, I am guessing) and came with subtle squid ink, fettucini, squid pieces and - she thought - prawns in a creamy sauce.
All these dishes proved more filling than expected and although we looked at the dessert menu we passed. Sometimes you spoil a good thing by wanting more.
Even on a bitter night One Tree Grill was cheerfully busy. Such popularity is hard won but is based on consistency, doing all the right things every time.
That's what One Tree Grill does. Fine food, not too fussy, but everything just right. I shall remember this night too. For all the right reasons.
Rating out of 10
Food: 9
Service: 9
Value: 8
Ambience: 9
Our meal: $181 for three glasses of wine, bread, two entrees, two mains and a side order of veges.
Wine list: As wide and deep as you could imagine. Mostly New Zealand and Australian but nods to France, Italy, Spain and Argentina. Some options by the glass.
Verdict: A suburban institution popular with locals, One Tree Grill delivers on its promise of great, down-to-earth dining in comfort.