Address: 114 Ponsonby Rd
Ph: (09) 360 8803
Website: longroom.co.nz
Open: seven days 11am-late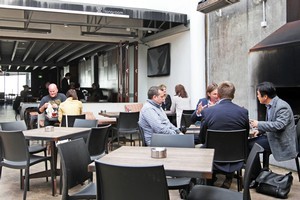 The Longroom has been a Ponsonby fixture for years and it's still a popular hangout.
It's a venue of three halves, if you will, with a nice courtyard bar out front, a main bar/dining room and the rather lovely "short rm" private dining room. It also has two huge pluses.
Firstly, it has a range of cellared wines. These are more expensive, but you have to expect that for what you get. When I say more expensive, be prepared. The Longroom serves quality drinks, but it also charges a premium price for them, although there are weekly specials that are good value.
The second great thing the Longroom has is Hans Hoefflich, the consummate bartender. Hans has made a huge contribution to the bartending scene in Auckland and can make a drink to suit you, no matter how outlandish your tastes.
The food is, as you'd expect from a restaurant, very good. And surprisingly reasonable. Anywhere you can get veal at less than $25 has got to be good and the menu is wide, varied and well presented.
The staff generally are good, if a little invasive. There is a limit to how much water I want, given that I have a beer and a whiskey chaser on the side; but thanks for asking. Repeatedly.
Overall, I was happy with the Longroom. Many of the "Ponsonby set" like to declare bars old hat at the drop of a hat, but I don't think that will happen to the Longroom.
Scores
Service: 3.5/5
Drink: 4/5
Food: 4.5/5
Atmosphere: 4/5
Overall: 4/5